Over the past 12 months we've observed a real change in the story that traditional publishers are telling about the relationship between print and digital books. In previous years the rhetoric that surrounded ebooks was that consumers would gradually transition away from paperback books – especially in mass market and genre categories – towards digital formats, which were more convenient and cheaper than physical books.
This shifted at the end of 2014, however, when major publishers started to report slowing ebook sales and a general recovery in print book prices – especially in the paperback and mass market categories that many market watchers had written off in the first few years of this decade. In the US the Association of American Publishers announced that paperback book sales rose 4.3% over the course of 2014. This trend continued at individual publisher level into 2015. In March, Lagardere, which owns the Hachette group of publishers, disclosed that its digital sales had fallen as a proportion of total revenues in the 12 months to March 2015. Meanwhile HarperCollins reported in May this year that while its revenues for the first quarter of 2015 were up 14%, ebook sales had fallen by 3% year on year.
Calling a trend in this data at the beginning of this year might have been premature but now, with a few quarters of sales information to go on, it does appear that a new balance is emerging between print and digital books. In some sectors of the publishing market at least, it looks as though consumers are choosing to buy print books instead of their digital equivalents.
This trend is reflected in the most recent Statshot figures released by the AAP, which report that paperback books experienced double digit growth in the first six months of 2015, rising 12.5% in dollar value. Over the same period ebook sales actually fell in double digits, with the dollar value of ebooks sold slipping by 10.3%. Interestingly AAP (pictured in the infographic below) felt the need to attribute this fall in ebook sales to the lack of film tie-in books in the children's and Young Adult categories in this six month period. As we have reported before on this blog numerous times, this indicates once again how a single runaway hit has the power to change the fortunes of the whole publishing market.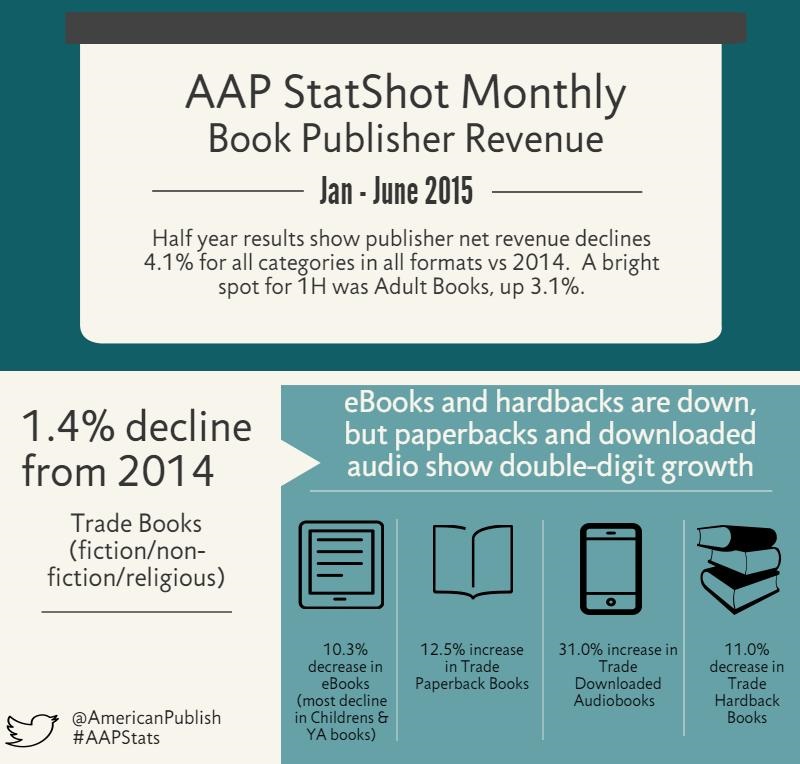 The brightest spot in the AAP's result, however, was reserved for audiobook downloads, whose sales rose by 31% in six months. These latest figures suggest that audio is continuing the trend of being the fastest growing area of publishing. This seems to have been driven by numerous factors, possibly including a trickledown effect of the growing popularity of spoken word content like podcasts and heavy investment in marketing from Audible, the Amazon subsidiary that owns the largest share of the audiobook sector. Given that Audible doesn't disclose sales figures though it is difficult to get a sense of how far and how much the audiobook sector is growing beyond these very topline figures.
What it is important to do before we use AAP statistics to explain broader market behaviour is recognise the limitations of its data. The AAP Statshot is based on information provided by 1200 publishers in the US, which does make it broadly representative of the activities of major publishers. What it can't account for is how many ebook sales might be slipping under its radar in the form of content sold by other independent publishers and indie published authors.
According to Hugh Howey's outspoken Author Earning Report, which uses an unspecified formula to calculate ebook sales by tracking title positions on Amazon's sales ranking, the reported decline in ebook sales does not indicate a decline in the size of the ebook market. It insists that AAP publishers are in fact selling fewer ebooks compared to indie published authors and Amazon imprints. Its self-reported figures indicate that now traditionally published books account for only 45% of the ebooks sold in Amazon's Kindle store. If true this means that the total size of the ebook market in the US at least could be twice as big as official estimates suggest. It may not be growing at the same rate as it did between 2010 and 2012, but the ebook market is still in growth if we believe Author Earnings argument. The key difference is that at an individual consumer level readers are choosing to buy print books from traditional publishers and ebooks from newer, independent entrants to the market.
Regardless of which estimation of market trajectory we choose to believe, one thing is becoming clear. Instead of trying to combine the traditional and independent publishing sectors as a piece, it may soon be a better idea to think of them as being parallel markets, each with a very different set of drivers and behaviours.