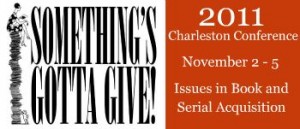 This week is the annual Mecca for all things libraries in the US, as the Charleston Conference kicks off in South Carolina. Here librarians, publishers, electronic resource managers, consultants and vendors have gathered for over 30 years to discuss how they can create a mutually satisfying environment where libraries get the publications they need while publishers maintain a healthy profit.

This year, Emilie Delquié of our sister company, PCG, is a special guest at Charleston, speaking at one of the event's prestigious pre-conferences seminar on Wednesday 2nd November.

Emilie's will appear in the "E-Everything: Putting It All Together, Part 2"seminar on Wednesday 2nd November. This will look at how libraries, publishers and vendors can address issues such as access, content integration, technology and discoverability in an environment where users increasingly expect to consume content via tablet computers, e-readers and even smartphones as video, audio and e-books.

Emilie's appearance at Charleston follows her contribution as co-author of a chapter to a new book, Patron-Driven Acquisitions: History and Best Practices, looking at how how academic libraries currently purchase materials  and analysing new business models being introduced in the marketplace. The book is launching at Charleston, and was selected as Book of the Week for Against the Grain magazine online. An article by Emilie will also be published in the November Charleston Conference Issue of Against The Grain.

If you're not going to Charleston this year that doesn't mean you have to miss out on the seminar. A paid-for pre-recorded webinar will also be available to delegates and slides of the Pecha-Kucha presentations delivered during the session will also be posted. You can register for the webinar here.