Unless you've been living on a desert island for the past five years, it can't have escaped your notice that social media is extremely big business. Facebook is on track for gaining a billion members and launching one of the most significant stock market flotations of modern times; Twitter continues to grow at a phenomenal pace and the relative upstart Pinterest reached 10 million unique monthly views faster than any other site in US history.

The news that nearly 4% of Pinterest's traffic links directly to clothing retailers' website has been greeted by many people as proof that soon we really will make our buying decisions socially, with social media as the recommendation engine. 'Laura likes this book, therefore you will too, as you both like similar things, and here's a link to buy it on Amazon' is the model on which many an online business is betting the house.

Yet some research that we commissioned with Futurebook suggests that almost half of trade publishers are not yet prepared to measure the impact that social media activity has on book sales. When asked whether they could attribute increased sales of their title to promotion across social networks like Facebook or Twitter, 29 per-cent said they could, with 24 per-cent saying that online buzz made no impact on actual sales. The other half (47.5 per-cent), however, claimed ignorance, admitting that they did not have the systems or processes in place to track the commercial effects of much online promotion, even if they wanted to.



Our research also unearthed a similar degree of ambivalence among publishers on the subject of how much they thought social media chatter about a book influenced consumers' decisions to purchase it. When asked, 62.6 per-cent of those questioned said social media was either not a significant factor or irrelevant, versus the remaining 37.4 per-cent, who maintained that social media recommendations were either very important or important.
These results can, like much research, be interpreted in a multitude of ways, but they do strike at the heart of a prevailing problem within publishing - the difficulty of measuring return on effort or investment in today's digital world. Social media has, for some in the industry, effectively solidified the word of mouth campaigns that transformed many ordinarily published books into 'sleeper hits'. The challenge here, however, is that in order to measure the effectiveness of social media campaign you need first to capture the data, crunch it and analyse it, comparing buzz data to the sales figures recorded in a publisher's own back-end systems. This is all theoretically achievable within big, information-driven businesses who eat huge data sets for breakfast, but the limited means of even the largest publishers can make the challenges in implementing such a system steep.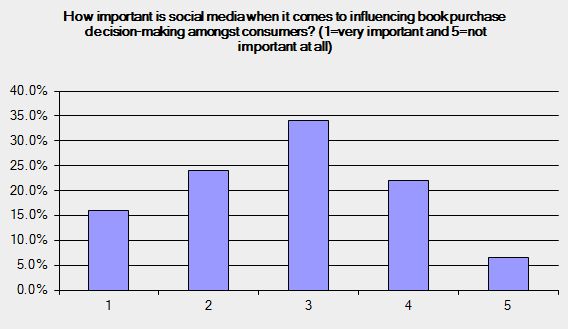 Yet however difficult it might seem now for publishers to start systematically tracking the number of times a book is mentioned on Twitter, or pinned in a Pinterest board, the fact is that social media has become a marketing channel that's too big to ignore, or trust to guesswork. Just as publishers learned to tally up the costs and the benefits of trade advertising, in-store promotions or outsourcing their printing to overseas companies, they will learn to integrate social media data into their business planning. And perhaps the difference between publishers who benefit most from the data-rich world of social media will be those who integrate it into their systems now, rather than wait until the data deluge overwhelms them.