First it was tablets that came to make the standalone e-reader device obsolete. Now it looks as though the increasing versatility, screen size and ubiquity of smartphones is doing the same thing for the tablet computer market, just five years after former Apple CEO Steve Jobs kickstarted it with the launch of the iPad.
According to new sales figures released by research firm ABI Research, tablet sales are down for both of the world's two largest tablet manufacturers, Apple and Samsung. Apple's iPad sales have looked weak for some time, but ABI's figures indicate that in the last quarter of 2014, Apple shipped 21.42 million iPads, which represented an 18% year-on-year decline from the same period in 2013. Samsung fared better in the Christmas quarter, posting a 7% increase in shipments, though this isn't necessarily an indication of how many of those devices were sold to consumers. Indeed, the company's Q1 2015 results, which saw it post a 30% year-on-year decline in tablet shipments suggest that many retailers still have large inventories of unsold devices.
There are a number of reasons why the tablet market seems to have grown, peaked and then stagnated in such a short space of time. Firstly it seems that the replacement cycle on tablet computers (and especially iPads) is longer than was first expected. While consumers tend to refresh their smartphones every two years, they seem to be waiting much longer before replacing a tablet. This means that in order to grow, the tablet market needs to capture a larger proportion of new customers each quarter. This is much harder to accomplish than selling devices to returning customers looking to upgrade.
Secondly, another reason that iPad sales especially look so stagnant is that iPhone sales are buoyant. In its two most recent quarters, Apple has posted unprecedented levels of iPhone sales, selling 74.5 million units in Q4 and 61.2 million in Q2 of this year. These have been driven by the availability of new devices, its first phablet, and moving in to the Chinese market as an active participant. Next to these sales figures, which have broken all of Apple's previous records, even solid performance for its iPad division would look mediocre.
The contrast between the fortunes of tablets and smartphones is another salutary reminder that tablets may not turn out to be the widespread devices used for reading that many publishers assumed they would be in 2010. Instead it looks as though the functions that made tablets look so attractive when it first launched (large screens, good battery lives) have been absorbed into the smartphone, whose future is beginning to look like a larger-screen multi-purpose device. As our mobile reading research showed last year, reading on a mobile phone may yet be a minority activity, but as the phone itself becomes a device on which reading for longer periods of time becomes more practical and comfortable, there is plenty of room for growth. If they want to persuade more people to consider mobile reading as a leisure activity, booksellers and publishers both may need to look again at how they are delivering content and reading experience on smartphones.
To underline this point, the UK communications regulator Ofcom recently published this chart showing which form of media / entertainment that British consumers would miss most.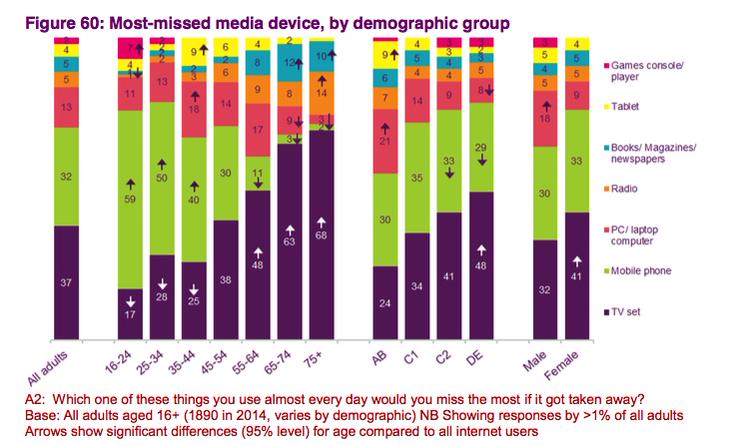 As we can see from this, while only 5% of men and 4% of women said they would miss books, magazines and newspapers, 30% of men and 33% of women say they would miss their mobile phone. Yet far from being something to be pessimistic about, this figure could represent a big opportunity for book publishers. Imagine if you were the publisher who created a form of content or reading experience that was fully optimised for the smartphone. That would give you a lot of leverage in a market where all of the action is increasingly concentrated around the phone.