Mark Johnson specialises in building and nurturing communities, and has over 20 years of publishing experience. He joined PLOS, a non-profit open access scientific publisher, in October 2014 and is currently the Director of Contributor Experience and Product Marketing. Mark will be joining us this month on Ingenta's London Book Fair panel. We caught up with him recently and asked him a few questions. 
Ingenta: Hi Mark. You're the Director of Contributor Experience and Product Marketing at PLOS. What does this role entail?
Mark Johnson: My role is all about communication. PLOS engages with thousands of contributors each year, including 150,000+ authors, 80,000+ reviewers and 6,000+ editorial board members across our seven journals. The Contributor Experience group facilitates communication that helps these contributors have a productive experience with PLOS. The Product Marketing group promotes content and helps maximise the visibility and impact of PLOS authors and their research.
IN: Describe a typical day in the office.
MJ: I work in the PLOS San Francisco (USA) office and I often start the day with a video call with colleagues in the PLOS Cambridge (UK) office. As a department head, I'm in a lot of meetings. I hear people at other organisations complain about too many meetings and that's just not a concern for me. My colleagues are bright, energetic, passionate and dedicated people who could be working anywhere, yet they choose to work for PLOS because of their commitment to Open Access. I am inspired every day by my colleagues; is that typical?
IN: How is PLOS' offering innovating the publishing space?
MJ: Later this year we will launch Aperta, a new manuscript submission and peer review system. We feel like the submission systems that most publishers use are very linear and opaque; Aperta is intended to be flexible, non-linear, and transparent.
Of course the biggest innovation has been PLOS ONE's editorial policy. I think David Crotty put it well in the Scholarly Kitchen: "PLOS ONE is, without a doubt, the greatest success story in journal publishing for the current century." Most journal editors ask the wrong question: "should this paper be published in this particular journal?" PLOS ONE instead asks "should this paper be part of the scientific record?" If the research is fundamentally sound, it should be published.
The success of PLOS ONE has inspired imitators and many of those journals are doing quite well. PLOS ONE remains the world's biggest journal publishing nearly 30,000 papers a year. Now researchers have choices on where to publish their Open Access research. The competition can help keep the APCs low and OA continues to grow rapidly as a result. Our position at PLOS is that OA is growing and we are achieving our mission.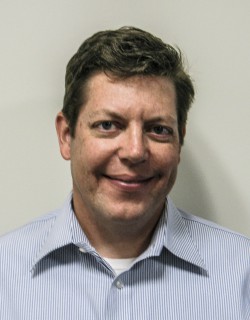 Mark Johnson, Director of Contributor Experience and Product Marketing, PLOS
IN: Do you accept that PLOS is considered 'disruptor' in the journal market? Is this a label you welcome/encourage?
MJ: We are very proud of our track record of disruption, first by proving the principle of OA, then by proving the principle of the mega-journal. But I don't think we've done enough to disrupt the journal market. The overwhelming majority of research content (~85% perhaps) is still locked behind paywalls upon publication, and that's a real shame.  As an industry, we're still far too slow to get solid research out into the world where it can do real good. But progressive publishing practices are gaining ground. Most new journals launched are OA with very few new journals launching with subscription paywalls. We as publishers need to do more, and we will.
IN: How are you linking up researchers and Open Access content?
MJ: For readers, PLOS content is highly discoverable: we don't have paywalls so the full text is indexed by all the major search engines including Google, Google Scholar, and Bing. We're indexed in PubMed, Web of Science, and Scopus. Full text is available on our site and also via PubMed Central. Articles can be posted in institutional repositories or even social media sites like Microsoft's Docs.com or shared on Research Gate and Academia.edu. Because the content is CC-BY, there is no need for our permission in order to post on third party sites.
For authors, the question is, "how can my article stand out?" meaning "how can it be as visible as possible to my peers and to the greater public to whom it may be relevant, even important?"  PLOS has a very active press release program. Our editors identify papers that are interesting and cutting edge and we help the authors of those papers get media coverage. The New York Times published over 50 articles based on PLOS-published research in 2015 – practically weekly coverage for our authors!  Our web sites have a Media Tracker section (see the "Related Content" tab on an article page) which allows us to crowd-source links pointing to media coverage of an article.
IN: Can you explain PLOS' business model? In what ways does it differ from competition?
MJ: PLOS is an advocacy organisation, a publisher, and a technology company.  It is also a non-profit organisation, which means any excess revenues we realise are reinvested for the welfare of science. We started as an Open Access advocacy organization and quickly realized we needed to become a publisher in order to prove an Open Access business based on funder-paid article processing charges (APCs) could be sustainable. And with the success of PLOS and other early OA publishers like BioMedCentral, we did prove it. PLOS has been self-sustaining since 2010.
Along the way, we also became a technology company, first by self hosting our web sites, then by developing software for tracking Article Level Metrics (ALMs). Now we are developing Aperta. Because we are first an advocacy organization, we can do things that we know will ultimately benefit the research community but that may not be "profitable" in a commercial sense, like develop software and give it away for free. We encourage authors and institutions – or anyone else – to post PLOS articles on their web sites – great! More exposure for our authors! That's horrifying to publishers who monetise by subscriptions and advertising.
IN: What are the biggest challenges with Open Access content? How are you planning to address this at PLOS?
MJ: The biggest challenge is getting other publishers to switch from subscription / toll access to embrace open access. The funding for OA is increasing. Funders like the Wellcome Trust are becoming increasingly frustrated with publications that are toll access with an OA option so I think they'll be putting pressure on authors to publish in full OA journals.  At the same time library budgets for toll journals continue to lag below inflationary rates resulting in a shrinking pool for funding subscriptions. So I do think there will be financial incentives to switch to OA in the coming years. More publishers are launching new OA journals but they are not converting their legacy subscription journals. I think there's a tremendous opportunity for collaboration between PLOS and societies that are looking to go OA but are concerned about revenue!
IN: How do you see Open Access developing in the coming years? What are PLOS' future plans?
MJ: OA will continue to grow. Judging by the tremendous response PLOS gets at meetings and conferences, early career researchers (ECRs) are firm supporters of OA which makes me think toll journals are on borrowed time – once today's young researchers are in positions of authority, we'll see rapid embrace of OA. In the meantime, PLOS has a terrific opportunity to continue to lead by example and put pressure on the rest of the publishing industry to change and progress
London Book Fair Panel: Wednesday 13th April – 11:30-12:30 in The Faculty (National Hall)
What is a Publisher Now?
Yes, it's Open – but where on earth is it?
The rising tide of Open Access publications – books, monographs and journal articles – brings with it a multitude of difficulties. None more significant than discoverability. The content that publishers and authors create may well be free and available, but how do readers find it? Open Access content is everywhere – in institutional repositories, on sites like OAPEN and DOAJ and on publisher's own websites – but researchers have an increasingly hard time locating exactly what they are looking for, especially when it comes to relevant Gold Open Access content. Ingenta's popular What is a Publisher Now? series, in this its fourth year, welcomes a distinguished panel of experts from across the scholarly publishing landscape to discuss the challenges brought about by the widespread shift to Open Access models, and the ways in which discoverability of Open Access content can be addressed.
Panelists: Byron Russell, Head of Ingenta Connect, Ingenta; Mark Johnson, Director, Contributor Experience & Product Marketing, PLOS; Ros Pyne, Research & Development Manager, Open Research, Springer Nature; Lara Speicher, Publishing Manager, UCL Press; Dr. Rupert Gatti, Director and co-founder of Open Book Publishers