At the start of the year we predicted that discoverability of Open Access content would be one of the major themes at play in the academic publishing landscape. And, as was revealed at our London Book Fair panel debate Yes, it's Open — but where on Earth is it?, this is indeed a key priority for many OA book and journal publishers.
Year-on-year more and more academic work is being published across the globe, and publishers and academics alike are grappling with the challenge of making their content stand out amidst an intensifying cacophony of scholarly research.
OA is singlehandedly nurturing this boom. Digital publishing and OA have afforded us the luxury of being able to publish unlimited amounts of papers, journals and monographs — more than we could ever fathom. Yet, at present, not everybody in the scholarly publishing eco system is benefiting from the new lease of life OA is breathing into the market.
The peer review system under pressure
The peer review system is, and probably always will be, an essential cog in the academic publishing wheel. It is one of the pillars which props up the publishing process, forcing researchers to adhere to certain standards, while ensuring research is reliable and factually correct. But while we publish a lot more, we sadly don't have a larger pool of reviewers to participate in the voluntary peer review process which currently exists. Many academics, such as Martijn Arns in his article OA is tiring out peer reviewers, claim that peer review is progressively crumbling under the pressure of the content explosion driven by OA.
So perhaps it is no surprise that in the light of this issue one of the trends we've seen emerge over past year or so aims to redress this imbalance.
Towards more inclusive OA models
Last year the University of California Press established Collabra, an OA Journal which shares 'the value contributed by the research community through the review process'. In essence we are looking at a model which splits the revenues generated from Article Processing Charges (APCs) to recompense editors and all those involved in the peer review process.
Meanwhile, in the UK, an online journal start-up called Veruscript recently launched with 'academic publishing with fairness at its core' with part of its mission being to reward 'constructive, comprehensive and timely' peer review. A diagram on its website shows that peer reviewers can choose between three compensation options — monetary reward, credits or an option to pay into a Researchers' Fund.
This migration towards more inclusive OA models, which aim to promote a culture of fairness and share the APC spoils, is an interesting development and certainly one to watch. It remains to be seen whether money is the answer and whether financially rewarding reviewers is the right fix for all the problems which currently hamper the peer review process. Will this system speed up the process and make it more effective? Will it lead to a more thorough and diligent process? How will it relieve some of the pressure brought about by the sheer quantity of research requiring peer review? These are questions which we should be in a position to answer in the years to come. But at least something is being done to tackle the problems within voluntary peer review and innovative solutions, which both shine a light on this issue and aim to address it, are finally coming to the fore.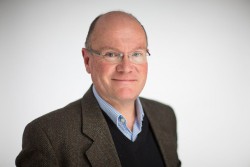 About Byron Russell
As Head of Ingenta Connect, Byron provides overall leadership and management of the commercial activities for our publisher-facing CMS product, ingentaconnect, spanning 280+ publisher clients and over 25,000 registered libraries. As a senior manager within the Group Sales and Marketing Division, Byron is responsible for the business development of the ingentaconnect service and for managing its Account Management and Client Support teams in the US and UK. Byron has an extensive background in publishing management, primarily in the education space, and was actively engaged in the business development of Macmillan's class-leading English Campus and Discover China programmes and CUP's English360 LMS prior to joining Publishing Technology.