This week The London Book Fair is taking a tour of the publishing industry around the world with its Virtual Conference Around The World in 8 Hours. The conference begins in China with a Virtual keynote to delegates, setting out the market and opportunities for book publishers in the world's fastest growing consumer economy – China.
We're participating in the Virtual Conference with this post – the Top Five Trends that are transforming the book business in China. To get involved with the conference on the day, keep an eye on the hashtag #pdmc15 or follow LondonBookFair on Twitter.
1. Books are cheap (literally)
In Mandarin the character for 'book' is a homonym (sounds the same as) of the character for 'cheap'. Yet this isn't just a linguistic quirk. In China books are cheap, and this is especially so in the case of ebooks. The typical selling price of an ebook in China tops out at around 8 Yuan(around $1.30), putting books in the same price range as basic grocery items as rice or potatoes. Consequently it's rare for people in China to buy books as gifts, and books remain something that consumers buy for themselves.
As with so many other businesses in China, the main opportunity for Chinese publishers and booksellers lies in achieving scale. According to Open Book's 2013 China Book Retail Market Report, released by research agency Open Book, the total volume of book retail sales that year reached 50 billion Yuan (about $8.2 billion). This was an increase of 10% on the previous year, with most of this growth driven by online bookstores, which grew 20-30% over the course of 2013.
China has some of the highest engagement with online shopping in the world, and it's growing fast. Recent research by Nielsen showed that 64% of Chinese shoppers bought physical books online and 51% intended to buy at least one ebook in the next year. The opportunity is huge but, once again, price is a key driver. Online bookstores in China typically offer books at a 30-40% discount on the retail price.
2. But writers can become very rich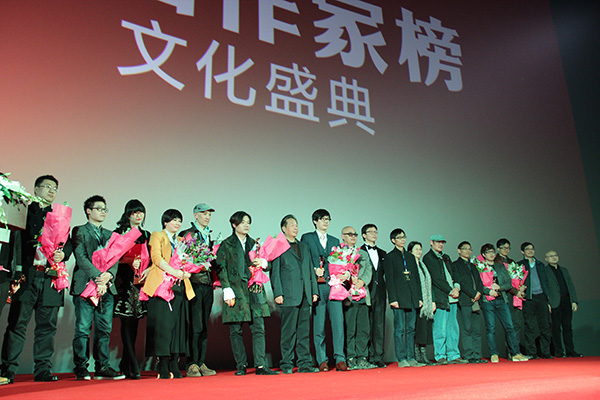 The price of individual books may be very low, but in a market where there are over one one billion mobile phones in use, over 500 million mobile internet users, a bigger e-commerce market than the U.S. there are lots of opportunities for authors to become very wealthy indeed on the back of their books.
The scale of opportunity in China is perhaps best illustrated by its equivalent of the annual Forbes Rich List, the China Writers Rich List. The ninth edition of this list was published in December 2014, naming 34 year old Zhang Jiajia as the country's highest earning author. His collection of bedtime stories for adults, began as short stories posted on Weibo, the micro-blogging website that is China's equivalent of Twitter. After gaining enormous popularity online, the stories were collected into I Belonged To You, which earned Zhang Jiajia 19.5 million Yuan ($3.1 million) last year alone. Five stories for the collection are now slated to be produced as films, with the writer to direct one, The Ferryman, under the guidance of renowned film director Wong Kar Wai.
Two children's writers take second and third place on the China Writers Rich List. Zheng Yuanjie, whose fairy tales have earned him the moniker of the Chinese Hans Christian Anderson, earned 19 million Yuan ($3 million) last year, while Yang Hongying, the country's, often called China's JK Rowling for her ability to sell books in huge quantities at home and abroad took home 18.5 million Yuan ($2.95 million).
Authors can earn even greater sums away from traditional publishing by writing and publishing their work on the internet. The online writer Tangjia Sanshao (Zhang Wei) shows a terrific work ethic and even greater earning power. For the past year he has produced an average of 8,000 Chinese characters a day, writing a succession of enormously popular fantasy adventures. He sold more more than 7 million print copies of his books in 2013, but the money he can also earn from online subscriptions and licensing fees for turning books into films, TV programmes and games pushed his earnings to 50 miliion Yuan ($7.98 million).
3. Chinese readers love serial fiction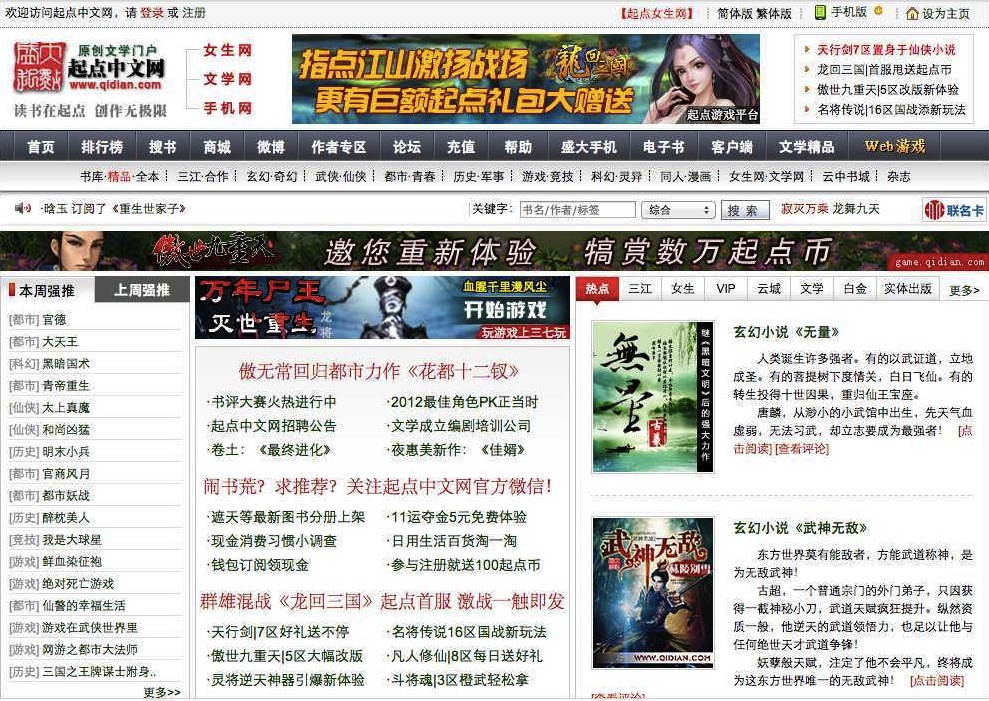 One key difference between the Chinese reading market and the book market in the west is that millions readers in China are hooked on serialized fiction. We reported on the Chinese phenomenon of 'freemium fiction' back in 2011, and since then the trend has only grown in popularity, with some series racking up in excess of 200 million readers
Freemium fiction sites such as Qidian.com work by allowing writers to register for free and write stories in installments of up to 6,000 characters. Readers then pay between 0.02-0.07 Yuan (which is just a fraction of $0.01) to read each new installment. The combination of cheap prices, on online serial format that can be easily read on a mobile phone and escapist content (many online novels have fantasy or wish fulfilment themes) has made freemium fiction enormously popular with 14-21 year olds in China. Many popular online novels have made the transition into traditional publishing – hence why online writers have graduated to the official China Writers Rich List. Beyond this, many more have become high grossing films and TV programmes.
4. But online publishing isn't the same as self-publishing
Another commonly attributed cause for the popularity of online fiction is how the Chinese government regulates the book market. In China, publishing a novel online in installments via Qidian bears some similarities to self-publishing (though in fact it's closer to posting fiction on Wattpad than publishing via Kindle Direct Publishing) but it's not strictly publishing. In China, for a book to be sold in a bookshop it requires an ISBN, and ISBN numbers can only be issued by the government via a state-owned publisher. Before the government will issue an ISBN, the book must be officially approved.
Online publishing (rather than self-publishing) therefore acts as a workaround for these approval rules. Platforms like Qidian.com allow writers to get their work into readers' hands without having to pursue state approval first. It's a form of self-publishing, but not quite as we know it.
5. Chinese reading…is all about mobile phones
China is an example of what is often called a 'mobile-first' economy, meaning that many consumers primarily use their phones to access the internet. One estimate by Boston Consulting Group suggest that as much as 90% of internet browsing in China is conducted on smartphones. This means that any company looking to capture a slice of the Chinese digital reading market needs to target mobile phones. One early entrant into this market was China Mobile, one of China's biggest mobile carriers. It launched its own ebookstore in 2009, aiming itself at the growing number of Chinese commuters, many of whom have long journeys to and from work. Its service is primitive in many respects, but it's cheap ($0.50 a book) and – unlike many western e-reading apps – can deliver content to a huge range of phones.
Yet despite strong presences in the market in the form of China Mobile, Amazon's Kindle, the ecommerce giant TenCent and, more recently, the world's fourth biggest handset manufacturer Xiaomi, the Chinese market remains deeply fragmented. According to recent analysis published by Chinese research firm, Enfodesk no e-reading app enjoyed more than 15% market share in the China. Compared to the US, where Kindle commands as much as half of the market, and the UK, where Kindle takes as much as two thirds of all ebook market, there's still everything to play for in China – as long as it's on a mobile phone.