From FutureBook.net:

The shortlist for FutureBook's first ever digital innovation awards has been unveiled. The nominees come from all sides of the publishing world, including Waterstone's, Penguin, SBS Worldwide and Random House. Details of the shortlists are listed below and the winners will be announced on 17th March.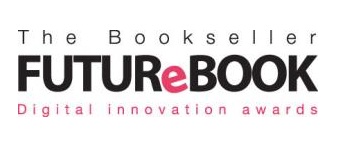 Best use of social media:
Waterstone's on Twitter, Waterstone's
New Voices, Midas PR for Harlequin Mills and Boon
Penguin Facebook & Twitter campaigns, Penguin Books
Vintage Podcasts, Vintage Publishing

Best app/enhanced eBook/interactive book:
1,000 Ultimate Experiences, Lonely Planet
Malorie Blackman's My CriBaby, Random House Children's Books
The Three Little Pigs app, Nosy Crow
Echo Bazaar, Failbetter Games
Chris Ryan Extreme, Hodder & Stoughton
The Good Pub Guide, Random House
Solar System for iPad, Faber and Faber Ltd / Touch Press LLP
The Heart and the Bottle App for iPad, HarperCollins Children's Books
Guinness World Records - at your fingertips, Guinness World Records
Dinosaurs Alive! Carlton Publishing Group

Best digital marketing campaign:
Mobilising the Robot Army, Angry Robot - part of The Osprey Group
The Natural History Quiz, DK Publishing
Launch of Nosy Crow, Nosy Crow
Widget, Random House
Make the Most of Your Time on Earth, Rough Guides

Best workfow innovation                                                           
Virtualized Logistics, SBS Worldwide
Faber Factory, Faber and Faber Ltd
App Task force,  Harper Collins

Best content innovation:
How2crafts.com 
Cambridge HOTmaths (HOTmaths Pty Ltd)
otm.oxfordmedicine.com , Oxford University Press
Stardoll/Mortal Kiss, Random House Children's Books
Fast Fiction, HarperCollins Publishers

Best website:
www.bergfashionlibrary.com, Berg Publishers  
www.ospreypublishing.com, Osprey Publishing (part of Osprey Group)
www.MacmillanDictionary.com, Macmillan Education
www.fixabook.com, Fixabook
www.selfmadehero.com , SelfMadeHero
www.viragobooks.net , Little, Brown Book Group/ The Virago Book Club

Most inspiring digital person will be announced on the awards evening.

The winners will be announced on 17th March.

FutureBook is sponsored by Ingenta.