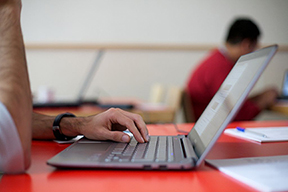 The development of online journals and books has now made it possible for librarians and publishers to gather information on how often a piece of content is used at an academic institution. For publishers, this can be an important tool in editorial development. For libraries, it is often factored in to their decision to renew or add to a subscription. Publishers must count on librarians to inform their users about the availability of the resource, but there are things a publisher can do to support this process.

At the core of this work is regular communication with the librarian. This starts with timely communication that online access has been turned on and where they can find materials to help them communicate with their patrons. If a librarian is slow in informing their users of the existence of new online content, usage is likely to suffer which could have a detrimental effect on the outcome of an online trial or the renewal of a subscription. By setting up a place on the publisher's website where librarians can find what they need, the publisher is helping to ease the librarians' marketing burden.

For example, Oxford University Press's librarian page provides everything from logos and banners, to email and press release templates. Sage similarly provides an array of useful marketing collateral for librarians and makes access to these materials easy and straightforward with a centralized page on its website.

Springer also does an excellent job at addressing this growing need by curating a  librarian-focused newsletter called LibraryZone, which provides tips and insights into the latest developments related to their content. Springer makes key resources like MARC Records and information on how to set them up readily available and highly visible online so that librarians don't have to waste any time digging for them.

Wiley's Library Marketing Toolkit is another useful resource that offers tutorials in a number of different languages, monthly live online workshops and dedicated user guides.

Other examples of material that could be helpful to librarians include:



Search box widgets, and other digital monikers to aid discovery


Library alert services for new support materials and new content being added to collections


Promotional material such as specific journal and subject fliers, posters, and bookmarks, as well as email templates for faculty communication, press release templates, and banner ads for library websites


Online training sessions that are offered by the publisher or that are made available on YouTube





In the digital world, publishers can and should stay more in touch with their library customers. At PCG we advise our clients to check-in regularly with librarians to see if they have issues or problems. In particular, be sure there are no issues around uploading MARC records in a timely fashion. Ask them what is working well and keep your ears open for comments you could use as testimonials on your website. Monitor and analyze usage statistics regularly in order to respond quickly to changes in activity. Follow up early with institutions where usage is low to see what might be happening. And start the renewal process early.