Earlier this week Lagardere, the French group of companies that owns Hachette Livre published an investor presentation on its website that demonstrated Amazon's dominance over the UK and US publishing market. Hachette, which is presently involved in a protracted dispute over terms of business with the online bookselling giant, has vocally criticized Amazon's decision to limit availability of its books on site while this is ongoing. The publication of this report reveals how much trade publishers rely on Amazon for their sales and makes a powerful case for more competition in the market. Hachette is remarkable among major trade publishers in making regular reports on digital sales and breaking out how much eBooks and other digital products contribute to its revenues. As such Hachette's sales figures are widely seen as a bellwether for prevailing trends in the market. According to these, last year digital sales accounted for 10% of Hachette's total revenues. As No 2 publisher in the US digital market it is reasonable to assume that this share of revenue is high by trade publisher standards, though interestingly last week PwC released figures estimating that digital sales could represent as much as 20% of revenues for UK publishers.

Hachette also reported that eBooks' share of the adult trade market continued to grow, although the days of double digit growth for the format are probably behind it. The historic figures it posted suggest that rapid growth in the market may have been driven by the one-off event of the Kindle Christmas, which took place in subsequent years in the US (2010) and the UK (2011).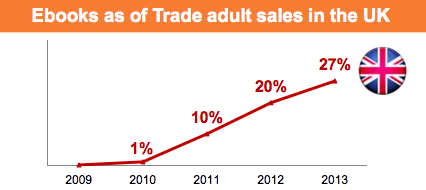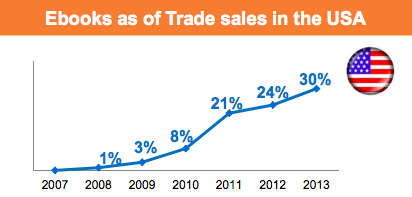 It was also conservative in its estimation of the future importance of eBooks to publishers' revenues, forecasting that their market share would level off at around 35% by 2017. Hachette's own estimates were significantly lower than those put forward by PwC, which predicted that eBooks would be accounting for 45% of trade sales in the same year. They were roughly in line with those made by Enders Analysis, which we blogged about here earlier this year.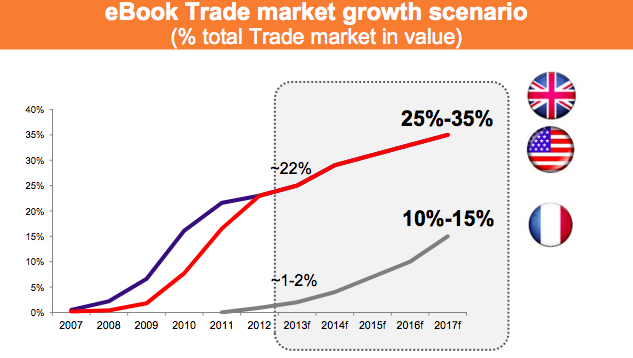 The real source of drama in Hachette's report came when it broke down its digital sales across eBook retailers in both the US and UK. Here Amazon's dominance of the market was shown in stark terms, with 'The Everything Store accounting for more than three quarters of all the publisher's digital sales. In the US, it netted over half of digital sales, though it faced stiffer competition from Barnes & Noble, which accounted for nearly 20% and Apple (13%). Apple was also Amazon's main competitor in the UK, with more recent entrants (particularly Kobo) failing to make real in-roads into the market. That the famously secretive Apple should account for a significant chunk of eBook sales shows once again that when faced with a choice between multiple reading platforms, many consumers just stick with the default option. Amazon's early lead with the Kindle gave it a distinct advantage, while Apple continues to reap the benefits of its iBooks platform being linked to iTunes and through this consumers' credit card details. Nook similarly benefits from its own hardware and earlier this month announced a partnership with Samsung to develop a new tablet offering, though again it has an early mover advantage that Kobo didn't have and which is discernible in its share. According to these figures, which given Hachette's vanguard position in digital sales must be broadly indicative of the wider market, 'software-only' reading platforms command less than 8% share in the US and 5% in the UK.

Hachette's solution to the increased consolidation of bookselling was increased consolidation of publishing. It openly stated that it will "have to follow the industry consolidation that has been initiated by large Anglo Saxon players", suggesting that it is in the market for potential acquisitions, both as a way of reducing fixed costs and giving it increased negotiating power with Amazon. We can already see evidence of the first part of this strategy in Hachette's decision to move its seven UK publishing decisions into one office and the latter in its decision to hold firm against Amazon's demand for better terms. The report underlines this, saying: "Publishers need size and muscle in order to keep control over relations with authors, over pricing and distribution". Despite pouring cool water on the idea of stratospheric eBook growth and highlighting Amazon's over-mighty market position, Hachette ends its presentation on broadly positive notes, both for itself and the industry. It points to consumers' continued need for publishers to sift the market for them, with its decision making process acting as a pointer towards high quality content. And it also points out that even for successful self-published authors the quality and range of editorial, distribution and marketing services that publishers offer makes them attractive partners. It also makes one excellent point about publishing's underreported success in navigating the transition to digital. Unlike other media industries, publishing has entered the digital area without experiencing a market decrease, widespread piracy or drop in profits.