In earlier posts for this blog we've used our sister company PCG's research report, the Open Access Library Survey to explore two topics. We've asked whether open access publishing is beginning to change the way that libraries catalogue scholarly content, and whether the fact that libraries now also cover Article Processing Charges (APCs) out of their budgets makes them research funders as well as collectors. In this post, we're returning to the issue of the selection criteria that libraries apply to open access journals to determine whether they should add this content to their collections, or fund APCs from library budgets.
As we have already reported, 63% of respondents to the Open Access Library Survey said their library had selection criteria that they applied to open access journals. 21% said their library had no selection criteria, while a further 16% weren't sure whether their institution had one at all. This indicates that the majority of scholarly libraries have clear and well-understood criteria by which they select which open access content is suitable for their patrons' needs. But this still leaves more than a third of libraries that either don't, or have not communicated it successfully to their staff. This position implies that while some libraries are meeting the challenges raised by open access published head-on, a significant minority are not; and this could present problems to libraries, their patrons and the institutions they serve.
When we look closer at what these selection criteria for collection are, however, the situation becomes less clear-cut.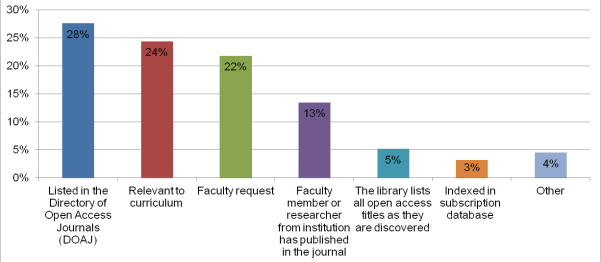 PCG's research showed that the biggest influencer on libraries' decision to include an open access journal was a single information source, the Directory of Open Access Journals (DOAJ). The DOAJ is an online directory that sets a benchmark for open access scholarly content, in that only journals that meet a set of minimum standards will be published on its website. These standards include mandating all listed journals to be registered at the ISSN, have an editorial board, make all their content available online for free and be transparent about APC charges. (You can see a fuller list of DOAJ's criteria here.) As such a librarian assessing a DOAJ-listed journal for inclusion can be fairly sure that its content is discoverable and that it meets a number of minimum ethical and academic standards.
Nevertheless, even though DOAJ inclusion was the most important key criteria, only 28% of PCG's survey respondents listed it as such. This put it just 4% ahead of the more ambiguous criterion 'relevant to the curriculum' (24%) and 6% ahead of 'faculty request' (22%). These suggest that libraries are not applying rigorous, evidence-based decisions to the full extent of open access content that they are collecting, but instead are making their decisions on more subjective terms. That another key criterion could be 'faculty member from institution has published in the journal previously' raises further interesting questions as to what a library's role is in the open access era. Does it exist to collect and catalogue relevant open access content, or collect and catalogue the content that an institution's faculty and researchers publish?
The situation becomes more interesting yet again when we look at the selection criteria that libraries apply before they agree to fund APCs in open access journals.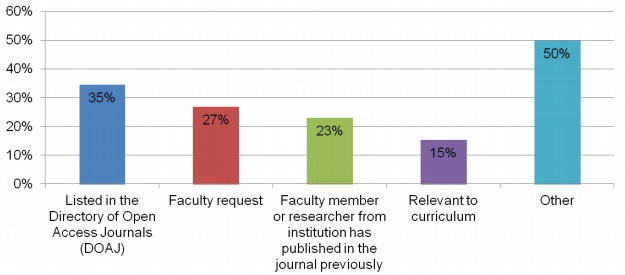 Here again, the DOAJ played an important role, with 35% of respondents citing it as a key criterion. 'Faculty request' was named as an important criterion for 27% of respondents and faculty member from institution has published in the journal previously' by 23%. 50% of respondents, however, said they applied 'Other' criteria before committing to fund an APC to an open access journal. The fact that criteria seem to be so widely spread implies that each different institution makes its decision on a different set of principles and that these cannot easily be matched with other institutions.
This research shows us that while most – but not all – libraries do have criteria for selecting what open access content they publish and fund via APCs. These criteria vary widely from institution to institution. They can also vary within institutions in that it appears that the same library can apply different criteria to collection decisions than it does to APC decisions. This is despite the fact that 70% of respondents to PCG's survey who do pay APCs said the funds come from existing library budgets.
The DOAJ may have set out to provide a quantitative way to assess open access journals, but as we have also seen qualitative internal considerations such as the tendency for faculty to publish in a particular journal can have a powerful effect on library's decisions too. Whether these two impulses can continue to coincide harmoniously – or whether they will eventually lead to a re-evaluation of what a scholarly library is for – remains to be seen.