Earlier this month the International Publishers' Association issued its 2013 report, looking at the relative performance of the world's major publishing markets. It made for interesting reading: not least because it revealed that depending on how you look at it, UK publishers were either the most productive or hyper-active in the world.

According to the IPA's Annual Report, UK publishers published 184000 titles in 2013 - meaning that collectively the industry published 2,875 books for every million inhabitants. This is despite the IPA ranking the British publishing industry as only the fifth most valuable in the world, behind (in descending order) the US, China, Germany and Japan.

Top 8 Global Publishing Markets 2013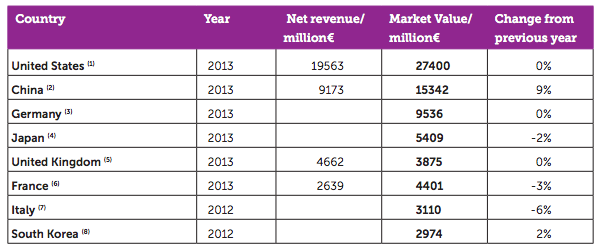 While the US publishing industry was the largest by value - €27400m, according to data from BISG Bookstats, it was not the largest by volume. This plaudit belonged to the Chinese industry, which published 444,000 books in 2013. China's per capita production of books was much lower, however, (at 325 books per million inhabitants) due as much to the sheer size of the country's population as the size of its publishing industry.

The news that the UK's publishing industry was the most productive in the world has driven much of the media coverage surrounding the IPA's report. Some publishing commentators have taken it as an indicator of the UK's strength in creating books for export. Others - including prominent trade publisher Jamie Byng - have read it as a signal that the industry is publishing too much.

Major publishing market productivity 2013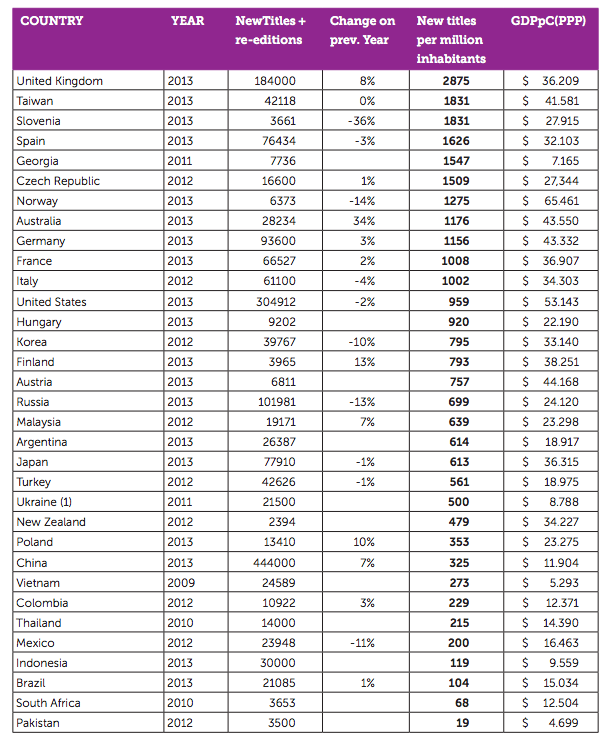 Certainly when we look beyond the headline figures, the picture looks less rosy for the UK publishing industry. In 2013, publishers ramped up production of books by 8%, yet they made no more money than they did in 2012, with net revenues of €4662m. This implies that while they produced more product, that either sold lower volumes or for a lower price. UK publishers' international sales also weakened in the same period, declining (by value rather than volume) 4% in 2013.

The US performed slightly more efficiently. The value of its publishing market for 2013 was static compared to 2012, but a slight decrease of 2% in the number of books published suggests that these are selling in comparable quantities and stable prices. Meanwhile Japan may have experienced a 2% decline in market value to €5,409, but its output also fell by 1% in the same period. Germany and France also followed the same pattern as the UK, with output up but total revenues down, though by smaller margins that in Britain.

In fact, of the 5 major publishing industry centres, China was the only country which saw the value of its publishing industry increase ahead of output. Its total market value rose by 9% to €15,342m, while output rose by 7%. China was one of only seven territories (Brazil, Mexico, Colombia, New Zealand, Norway, the Czech Republic and Indonesia) that experienced positive growth in 2013. Of these only one (Indonesia) experienced double digit growth at 16%.

The IPA's report ends on an important and often undersold point. As a mature business in most territories it's well acknowledged that growth in publishing is slow when compared to most industries. Its maturity, however, means that it also still dwarfs the other industries now seen as its biggest competitors. The games industry, for example, accounts for $63bn in global spending and recorded music just $50bn, compared to $151bn for the book business if we include academic and education publishing in this figure. Regardless of how we look at it, books are still big business at a local and global level, and that's not set to change for some time yet.