Why responsive design should be your #1 priority
October 2016 was a notable month in online history. It was when mobile web access overtook desktop for the very first time. That month, Statcounter, a research company which record usage across 2.5m websites, noted that 51.3% of pages were loaded on mobile devices. To put this in perspective, the figure for 2010 was just 5%.
Having websites which display sub-optimally on mobile is no longer acceptable – to do so risks driving users away from your content in favour of the competition. This is particularly true when you consider the breakdown of mobile usage. Of that 51.3% figure, 46.5% of the traffic was via smartphones, compared with just 4.7% for tablets. This breakdown is highly significant – it means that the vast majority of mobile web users are accessing sites using a screen which is a small fraction of the size of that of their desktop Mac or PC.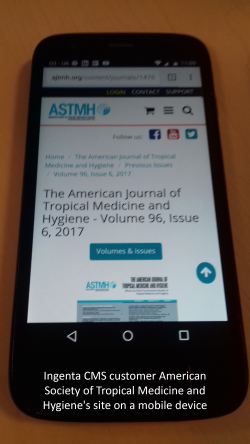 As we mark the tenth anniversary of the iPhone's launch, it is not hard to see the appeal of accessing content via a smartphone – the convenience of being able to switch rapidly from calling someone, to texting, to browsing web pages being paramount. However, issues can arise with how content displays. On a small touch screen device, it is inconvenient at best, and impossible at worst to scroll across a page to view complete sentences. The text should re-flow to suit the device being used. Navigating menus on a small screen can also be an issue – mobile usage demands that the menus are in situ where and when needed. This is particularly true for the scholarly researcher who is moving rapidly between one article and another, for example by clicking on a link in the bibliography to view an article cited in the text.
When reviewing your content site, and choosing a new design or provider, it's important to check if responsive design is available 'out of the box' – the rapid adoption of mobile means that it is no longer an option to view responsiveness as an add-on which is available for an additional fee. From a strategic point of view, publishers should also consider where their customers are going to be coming from and what their browsing behaviour is likely to be. In sub-Saharan Africa for example, over the next five years, an additional 168 million people will be connected by mobile services across Africa, reaching 725 million unique subscribers by 2020 (according to a report by GSMA Intelligence).
Finally, a hint: checking whether your content displays properly on the wide variety of mobile devices can be a time-consuming process, and it is unlikely that you have an example of each one to test. A useful solution is available via the Chrome browser – the Responsive Web Design Tester is a plug-in which can be added to your toolbar, enabling you to check if your site displays optimally on devices from HTC, Apple, Samsung, Nexus and more. Give it a try and if any of your sites display sub-optimally on one or more device, then we'd love to have a conversation here at Ingenta.
---
Mark Hester is one of Ingenta's resident experts on digital hosting systems.
With years of experience at leading publishers, including Elsevier and Blackwell, Mark now uses this industry knowledge to help publishers maximise and optimise opportunities for their digital content
You can email Mark directly at mark.hester@ingenta.com or telephone +44 01865 397876