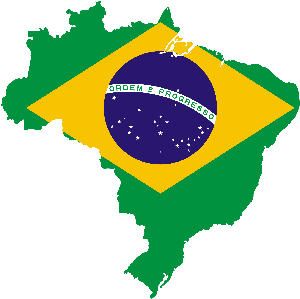 The Frankfurt Book Fair is again upon us and this year the Guest of Honor at the publishing industry's premier event is my homeland, Brazil. As head of Publishers Communication Group's São Paulo office, it seemed like a good time to weigh in with some helpful insights and direct experiences from the country that is gaining so much attention lately.  While recent news coverage of this important Latin American market paints an uncertain picture of Brazilian society, many of the changes resulting from government protests are positive and continue to advance social and economic trends toward a rising middle class, expansion of higher education and resulting demand for academic content from around the world.

Over the last decade, Brazil's evolution as one of the rapidly developing BRIC economies has contributed to the overall prosperity of the nation and new opportunities for its people. According to a survey last year by the Brazilian Institute of Public Opinion and Statistics, over 80 million citizens now have access to the internet, a penetration rate of 43% and growing.  Consumer confidence numbers are cautiously optimistic, but visit any mall on a Sunday afternoon—not just in affluent neighborhoods—and you will find shoppers clogging the halls trying to maneuver all their packages and purchases. This emerging middle class, built on the need for skilled labor, has also driven the phenomenal growth of Brazil's education sector.  In response, the federal government's investment in public and private universities has resulted in 14 new public universities and hundreds of new technical institutes in regions across the country formerly lacking such quality educational opportunities. Meanwhile, the country's elite institutions now lead the pack of the QS Best Universities rankings for Latin America, with nine Brazilian universities in the top 25 of 251 entries, headed by the Universidade de São Paulo, Universidade Estadual de Campinas and Universidade Federal do Rio de Janeiro in the top ten.

All of this higher learning activity within Brazil has predictably led to an increase in scientific research and the demand for scholarly content.  One outgrowth of this academic pursuit has been the content aggregation activities of CAPES, the government agency responsible for the overall expansion of post-graduate education.  Part of the Ministry of Education, CAPES in 2000 created the Portal de Periódicos, offering access to the best of international science publishing, which today includes a digital library of more than 35,000 full-text journals, 130 databases, as well as books, encyclopedias and reference works, technical standards, statistics and audiovisual content.  Originally distributing funds for resource acquisitions, CAPES now provides a central purchasing function for content with broad research appeal for 150 core institutions and another 150 smaller public universities that all offer masters and doctoral programs.  Other Latin American governments have subsequently created initiatives modeled on the CAPES program, including Mexico (CONRICyT), Argentina (MINCyT), Chile (CINCEL), Uruguay (TIMBO), Peru (FINCyT) and Ecuador (SENESCyT).

Publishers looking to expand their reach into Brazil's system of higher education therefore need to market their content both to the CAPES agency as well as individual academic institutions, depending on subject matter.  At PCG Brazil, we currently represent eight different publishers in sales activities and negotiations directly with the government and the domestic library market.  One of the best ways to reach librarians is through the alternate-year conferences, CBBD and SNBU.  Just this past July 7-10, PCG exhibited on behalf of our publishers at the biannual CBBD Brazilian Congress of Librarians, Documentation and Information Science in the southern resort city of Florianópolis, attended by more than 2,000 librarians at all levels.  In 2014, the SNBU National Seminar of University Libraries, the largest and most important event in the field of information science, takes place in the populous, regional capital Belo Horizonte from November 16-21.  This direct interaction is important in Latin America as business is often based on personal relationships and transacted in the local language.

Though the economy has slowed somewhat recently, with the Brazilian real down more than 30% against the US dollar in the last two years, the country remains an inviting prospect for publishers seeking to expand into Latin America's largest market.  As evidenced by the government demonstrations, Brazil boasts a young, optimistic and dynamic society that is demanding ever more social mobility.  With its transformed and growing university system, Brazil looms as an exciting, lucrative opportunity for content providers to influence the quality of scientific research produced by its burgeoning academic sector.

Lilian Pessoa has spent ten years in the publishing industry in Latin America, currently as Vice President, PCG Brazil and previously in various sales roles at Gale, Cengage Learning (and its predecessor companies) and also as a researcher at the University of São Paulo.