When I began planning my 2015 travel schedule last November, the mother of all winters had yet to announce herself on Boston's doorstep. So it was with a welcome (if frozen) heart that I began planning my March business trip to India. When I landed at Ghandi airport last month and walked outside it hit me that I had not seen the actual ground, literally, in about 6 weeks. My vista back home was snowy goat-paths instead of sidewalks, feet of snow, and more snow in every direction. Hurray for terra firma!

Publishers Communication Group (PCG) has long been active in the Indian marketplace, working in all corners of the academic and corporate library landscape. With two PCG sales representatives based in Delhi, we can attest that India is an ever-promising yet ultimately quirky market for publishers to navigate; and it takes a keen knowledge of the local landscape to accelerate and close sales at the individual and consortia level.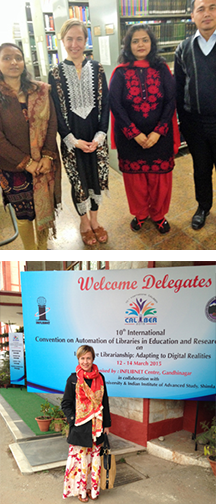 An important aspect of the current India market is the ongoing library budget shortfall. India faces a huge challenge to fund its rapidly growing higher education sector. 2014 was a trying year for publishers looking to sell content in India with many institutions at the federal and state-funded levels struggling to retain funding for existing content holdings. Subscription retention was the theme last year and will be for 2015 as well. In line with its election manifesto, the new Indian government headed by Prime Minister Narendra Modi pledged to digitize libraries, but has already reduced higher education funds by 25% since the start of the year. The government has reduced funds for higher education to the tune of Rs 3,900 crore (39 billion rupees or approximately $626.5 million) in its revised budget estimates for the financial year 2014-15. Most of the active twelve India consortia have 5-year budget cycles, with many holdings allocated funding through 2017. Still, funds for acquiring new content are lean, and smaller individual institutions in India anticipate cuts as high as 60% in 2015. Knowing where the budget dollars are is key, and approaching libraries with pricing that reflects an understanding of the current library budget conditions is critical this year.

Another factor that may impact publishers working in the India market are new tax laws which have yet to be confirmed but appear imminent. While subscriptions and purchases of online e-resources were exempted from service tax by the previous Indian government, the current government has withdrawn this exemption. Going forward, e-resources will come under the additional burden of a service tax, which will be about 12.5%. India and now Indian institutions are deducting as TDS from the publishers or vendors. Additionally, it appears that Indian libraries will soon have to deduct tax at source (TDS) when they issue payment for content. Historically, many publishers and vendors provided quotations and subscription prices excluding the VAT and other taxes paid by the institutions. But now institutions are advocating the taxes should be paid by the publishers and vendors. The tax policies have yet to be confirmed, but the Indian Library Association is advocating for TDS exemptions for the purchase of educational e-resources.

While in Delhi I was able to make institutional and consortia visits with my local colleagues, Dilip Kumar and Sunita Lal, all of which yielded useful information and insights critical to serving our clients. Our visits included appointments with the heads of CeRA, CSIR, and DeLCON consortia and institutional meetings with librarians at the National Institute of Immunology, Jawaharlal Nehru University, and the National Brain Research Center, among others.

After a few days in Delhi, we piled in to a car for the ten-hour drive north to Shimla, capitol city of the state of Himachal Pradesh. Here we would attend and exhibit at the tenth annual CALIBER Conference on Automation of Libraries in Education and Research Institutions, organized by INFLIBNET and the Indian Institute of Advanced Study. Shimla is about 8,000 feet above sea level, lies in the south-western ranges of the Himalayas, and is teeming with beautiful, if not entirely trustworthy, Gray Langur monkeys. Here is the sign that greeted my arrival in the Shimla hotel room: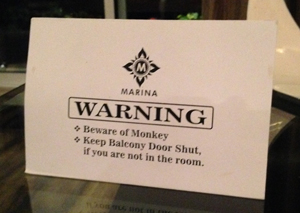 At the CALIBER Conference, we met with librarians from all parts of India. At our exhibition space, we fielded publisher-related queries over the course of the three days, speaking to everything from the purchase and access models to how a publisher's content ties in to India-specific research activities and output. Papers and themed presentation sessions at the conference covered topics including MOOCs, citation analysis, IPR issues, Open Courseware, collaborative content creation, repository networks, copyright issues, and a host of other library science themes tied to adapting to the digital acquisition landscape.

As we returned to Delhi from Shimla, I considered the clear trend of India's shift from an agrarian economy to a services economy. In this respect, India's rate of maturation closely resembles China's, with massive migration to the cities as citizens hook their hopes on the better-paying jobs. The rapid pace of urbanization was evident everywhere, yet one of my favorite moments of the entire trip was pulling over along the road in Gannaur, where farmers still work large crops of mustard, wheat, and sugarcane. A small boy with a huge smile was selling guava fresh from the adjacent field. Back in car, sun on face, windows down, the guava was as good as it gets, and so was the trip.

Erika Valenti is Global Sales Director, Publishers Communication Group.