Last week, Ingenta and PCG attended the UKSG Conference in Harrogate, which typically offers an excellent mix of plenary sessions, smaller breakout sessions, exhibitions and networking opportunities, which inevitably include an opportunity to dance with librarians. This year was no exception, featuring a Yorkshire-themed dinner and disco along with many useful takeaways from topics such as communication and collaboration to content discovery. Below is a summary of this year's key topics from the conference.

Give me the information now!

We're all guilty of impatience, especially when it comes to downloading a document or reading instruction manuals, but just how impatient are we? One speaker pointed out that the average attention span of Internet users in 2013 was just 8 seconds – one second less than that of a goldfish.

This theme of user-expected immediacy when it comes to accessing information was clear throughout many of these sessions.  A lecturer preparing videos for Massive Open Online Courses (MOOCS) said that these videos have to be concise, no more than 6-8 minutes long, otherwise students didn't bother watching them. One student discussed her experience with MOOCS and said that shorter videos and articles are much preferred, and that if there was a transcript of video available, she was more likely to read the transcript than watch the video itself.

Collaboration, communication and experimentation

Whether it was in discussions about Patron Driven Acquisition (PDA) models or implementation of Library Discovery Systems e.g. Primo or Summon, collaboration and communication was a trending topic over the course of the conference. Many speakers emphasized the importance of partnering with a vendor and being prepared to engage and experiment with them in order to get the most out of a product. Many speakers also talked about the importance of experimentation within libraries and understanding what their users actually want, so that these institutions can ensure continued use of the library.

Analytics and Alternative Metrics

There was also a lot of talk about the importance of analytics and understanding the unique behaviours of end-users. A particularly interesting project mentioned during one session was the JiscLamp project, a partnership between Jisc, Mimas (at the University of Manchester) and the University of Huddersfield. This project aims to collect data from institutions and create tools that allow libraries to analyse how their resources are being used, when and by whom, as well as providing bench-marking for librarians. These analytics include final grade, number of books borrowed and number of times e-resources accessed. So far, this information has shown there is a statistically significant link between the use of library resources and a student's final grade – however, this isn't strictly a cause and effect relationship, as there are many other factors involved.

Moving away from Impact Factors, which uses citations as a measure of a journal impact, to alternative metrics was another big topic at UKSG this year. COUNTER launched the COUNTER Code of Practice for Usage Factors to measure the importance of a journal based on its usage. Alt Metrics providers, Altmetric and Plum Analytics, also talked about providing metrics for factors other than usage, for example the number of tweets or shares of a specific article.

Discovery

Helping users find the content they need was also an important yet controversial topic at some of these breakout sessions. One library discussed a particularly risky move they made by doing away with the library catalogue all together and directing users to Google Scholar instead. Most librarians felt that their value-added services were an authoritative source for their users, and one audience member pointed out how disastrous it would be if Google shut down Google Scholar, as they have done with other services in the past. In my own experience, Google Scholar actually only drives a small percentage of traffic to content compared to Google Web Search, but it offers an easy way to find scholarly content, allows libraries to flag holdings information to their users, and most importantly, it provides publishers and libraries with a communication channel.

Free stuff

UKSG Harrogate included over 100 stands from publishers and vendors. The exhibition was well attended and it was great to see how many promotional giveaways were being distributed throughout the event – a positive sign for that there is more money being spent on these marketing efforts. At UKSG this year, there was Yorkshire cheese from Swets, OUP-branded cakes from Bettys, a famous tea room in Harrogate, and of course everyone's favourite toy, by way of turtles, from BioMed Central.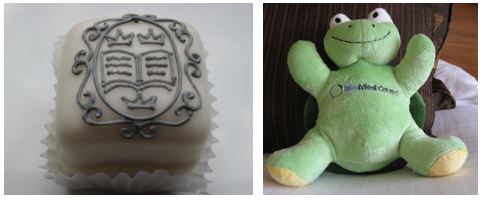 Rose Robinson is Product Manager for Ingenta's ingentaconnect and pub2web platforms.