Results of the 2016 Library Budget Predictions survey – research carried out annually by Ingenta's publishing consultancy arm, Publishers Communication Group (PCG) – have been released, stating that institutional library budgets across the globe will increase by 1.4% overall this year.
Overall Budget Expectations
Despite the rise in library budgets overall, the mature markets measured in the survey show very limited expansion. North America predicts a 1% increase in its overall budget spend for 2016, whereas the situation in Europe is slightly worse, with an 0.1% decrease anticipated overall. Although regions containing predominantly emerging markets predict growth, this is generally at a lower level than previously. Somewhat more optimistically, however, South America expects growth of 2.1% (5.9% for 2015) and the Middle East and Africa continues to predict the greatest proportional increase at 4.2%, although this too is down compared to last year's 6.8% predicted rise. Asia Pacific, influenced by China and India (emerging) and Japan (mature), balance out somewhat with an expected 2.8% increase.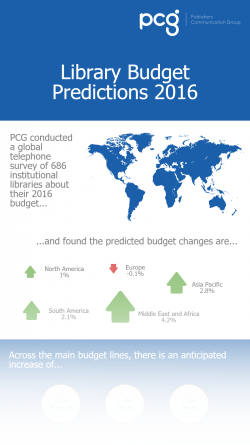 Materials budgets
Across the main budget lines, the survey uncovered that materials budgets (all information content provision) are anticipated to increase by 1.2%, serials by 1.4% and books by 1.3%. Spending patterns regionally broadly reflect the overall budget. Notably, North America predicts a 1.9% increase on its books budget whilst only increasing serials by 0.2%.
Serials budgets
These tight serials budgets mean that librarians face challenges to balance the needs of their users alongside their available funding. This is demonstrated in the plans for additions and cancellations of serials. Overall, it is expected that an average of 52 serials will be added, while 75 will be cancelled. The emerging countries segment shows quite a different picture: 228 serials are expected to be added with just 14 cancellations on average. When asked how decisions on budget prioritisations are made, librarians tell us that they use several indicators – usage figures are considered by 88% of librarians, and 76% take feedback from users into account.
Search, discovery and reference management tools
The research examined the usage of institutional search and discovery tools (which includes services such as Summon) as well as reference management tools. Responses across the board show that neither of these services could be described as having "widespread" usage. While 76% of respondents are aware of institutional discovery tools, only 28% had already purchased such a service. A further 10% plan to invest in these in the near future. Reference management tools are better embedded however, with 58% already providing a service, with that figure rising to 68% in the academic community.
How the Annual Library Budget Survey was compiled:
A global telephone survey was carried out at 686 institutional libraries in North America, South America, Europe, Asia Pacific and Middle East and Africa
Senior librarians with control over and knowledge of library budgets for 2016 were contacted
Academic institutions were split into categories reflecting the size and research focus level of their institute
The data in this study has been weighted to reflect the global contribution of each country to library spend. All counts in the report are based on the weighted number of responses, rather than the actual number
PCG is now beginning the process of collecting data for 2017 library budget predictions. As always, we appreciate the continued support of the many librarians around the world who contribute information and insight to this endeavour.
Further details about all of these results can be found on the PCG website. If you would like to discuss targeted market research campaigns to learn more about your customers, please contact Janet Fisher at jfisher@pcgplus.com.