A panel session presented at the annual Society for Scholarly Publishing (SSP) Conference 2016
The 2016 Society for Scholarly Publishing (SSP) Annual Meeting was held in Vancouver the first week of June. With the theme of "Crossing Boundaries: New Horizons in Scholarly Communication," PCG partnered with Ringgold, the organisation that provides unique IDs for organisations in the publishing industry, to offer a panel discussion on "Small Data, Big Benefits: Mining for End User Relationships".
For the session I was joined by my co-chair Christine Orr, Sales Director at Ringgold, and throughout the discussion we enjoyed lively presentations from the following participants: Jenni Rankin, Marketing Manager at Annual Reviews; Lauren Kane, Chief Operating Officer at BioOne; and Wendy Wise, Manager of Content Marketing and Lead Generation at the American Chemical Society.
Why end users count
The session focused on the growing importance of end user marketing, brought about by the change in the library market landscape. With electronic content, the librarian has an important role to play in making their patrons aware of the library's subscribed content, and this can be a heavy burden in the midst of their already formidable list of duties. As a result, scholarly publishers are looking to promote their content directly to end users as well as librarians. Christine Orr of Ringgold kicked off the session with a talk about data – how confusing it can be and how Ringgold and other emerging standards, such as ORCID, are steps toward helping publishers to accurately identify institutions and researchers.
The value of content marketing
Jenni Rankin from Annual Reviews discussed the approach her organisation is taking in developing brand loyalty. Through marketing their content directly to end users, they aim to create strong connections with researchers that also result in increased usage of their contact. Jenni used an example of how content marketing via email to end users resulted in an amazingly high increase in article views: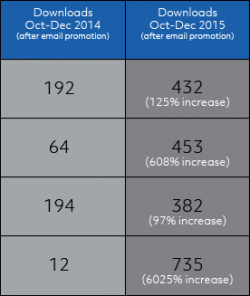 Users build a brand
Indeed, Lauren Kane of the not-for-profit science publisher BioOne echoed the sentiment stating that, in today's marketplace, publishers ignore end users "at their peril". BioOne had experienced problems with brand awareness, discoverability, and usage. She noted the many priorities librarians are continually juggling and therefore relying on them to promote BioOne's titles to their end users is probably not enough. She also commented that it is very important to keep cultural norms in mind when taking this on. For BioOne, the use of lists created by Thomson Reuters proved very effective in expanding awareness of their brand, introducing it into new markets, and generally increasing usage.
Know what works
Lastly, Wendy Wise of the American Chemical Society described an intense process undertaken by the organisation in 2015, in which its marketing team was reorganized and an audit was carried out to assess the various silos of information available in their diverse efforts. From this inventory the team identified the 10 key pieces of information they wanted to retain and store, allowing them to focus their outreach efforts (forms, surveys, email opt-ins, trade show outreach, etc.) on collecting this data. Getting rid of the excess fields and clutter allowed ACS to develop engagement metrics that will give them essential information about content use.
Data delivers
All in all, the panelists emphasised the need for publishers to dig into the data they have – subscriber data, author data, altmetrics, end user targeted databases and other industry data-driven initiatives like Ringgold and Kudos  – in order to connect more directly with end users. As these connections get stronger, the researcher's loyalty to the publisher's brand grows and has the potential to turn into advocacy.

Janet Fisher, Senior Publishing Consultant, PCG
As Senior Publishing Consultant, Janet works with academic, commercial, and reference publishers to support their marketing  efforts. Prior to joining PCG, Janet was Associate Director for Journals Publishing at The MIT Press where she managed a diverse program of scholarly journals in arts and humanities, social sciences, and science. During her time at MIT Press, she also served on the Journals Committee of the Professional and Scholarly Publishing Division of the Association of American Publishers, and on  the board of the Association of American University Presses.
From her background in academic journals publishing, Janet has gained an extensive knowledge of online hosting platforms, journal publishing operations, and print-to-online strategies, which gives her the ability to work with publishers on a wide range of projects.