Last week, Marco Castellan from our sister company PCG lifted the lid on some very interesting statistics on journal subscription renewal trends over the past five years. Aggregated from data gathered by PCG during telephone campaigns renewal campaigns for lapsed subscriptions, the statistics cover more than 47,000 individual subscriptions worldwide, and present an interesting picture of how the journals market has undergone rapid change.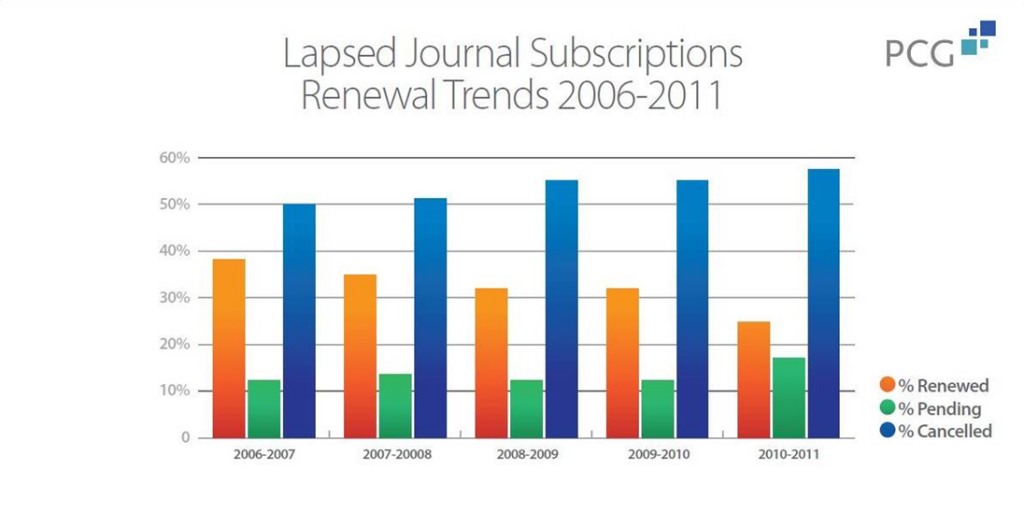 PCG's results suggest that the journal subscriptions market is on a slight downward trend, with the number of lapsed subscriptions that go on to be renewed declining from 38% in 2006 to 25% this year. Over the same period the proportion of outright cancellations rose from 50% to 58%, while the number of subscriptions over which a final decision is pending remained stable at 13-14% until this year, when it rose to 17%. PCG attributes at least some of this rise in pending decisions to in-depth collection reviews caused by budget restrictions that have lengthened subscription processing periods. These same budget restrictions have also contributed to the slow but steady increase of subscription cancellations identified above. Prior to 2009, the most common explanation offered to PCG for a subscription cancellation was the availability of online content. This trend, which was prominent for many years as libraries looked to increase electronic holdings and reduce duplication of content, is now becoming less influential. PCG attributed this to the fact that many print subscriptions have now been converted to electronic formats, and fewer lapsed print subscriptions are included in their campaigns.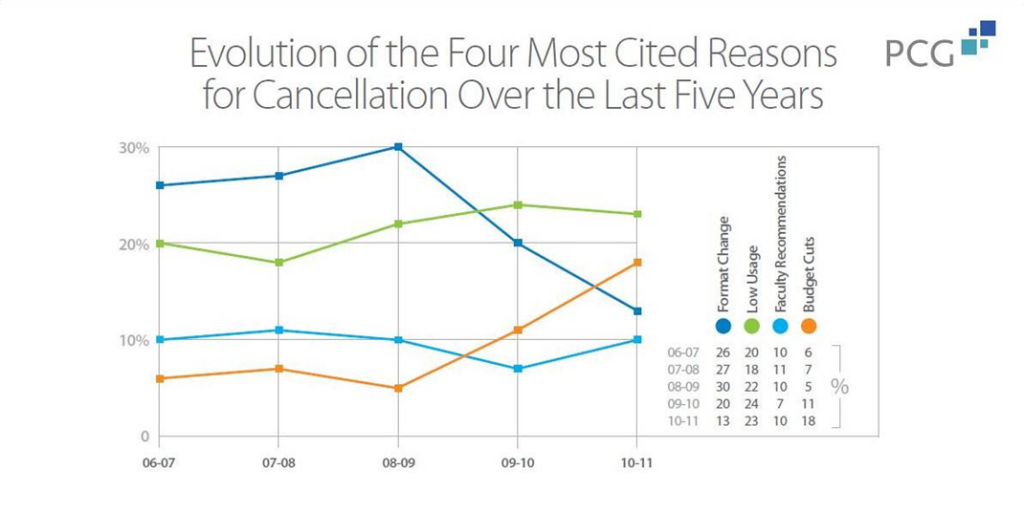 More recently shrinking library budgets have begun to play a more significant role in journal subscription trends, as the straitened financial environment compels many librarians to embark on cost-cutting exercises. These in turn are encouraging librarians to rely more heavily on external data and stakeholder opinions before renewing, with factors such as usage statistics and researcher feedback playing an increasing role in the decision  making process. If you're interested in looking at the results in greater detail you can download the full report from PCG's website here.