Last week at Digital Book World, Nielsen's Jonathan Nowell gave a presentation where he broke down how the ebook and print book markets were faring on both sides of the Atlantic. Nielsen's market statistics arrive at an interesting time for the publishing business, in which a debate rages over whether the ebook revolution was really just a fad.

In the UK, a slight recovery in print book sales were coupled with remarks from the James Daunt, the managing director of Waterstones that Kindle ereader sales had 'collapsed', have been interpreted as a resurgence of 'real'  books. Regardless of whether anyone in publishing benefits from efforts to talk down the industry's future prospects, the narrative over ebooks reaching an alleged plateau of sales raises some interesting questions. Many of these relate to the way the industry collects and interprets data on its own performance. How reliable are the publishing industry's estimates of ebook sales, for example? Do ebooks follow their own sales cycle apart from print books? Do trends in content consumption diverge between physical and digital formats? And if so, should publishers pursue distinct publishing strategies for digital and physical formats?

Nielsen's data (which is available to view in this Slideshare and worth a detailed look) offers some interesting takeaways, which we'll be blogging about this week.

1. Ebook sales cycles are different from print book sales cycles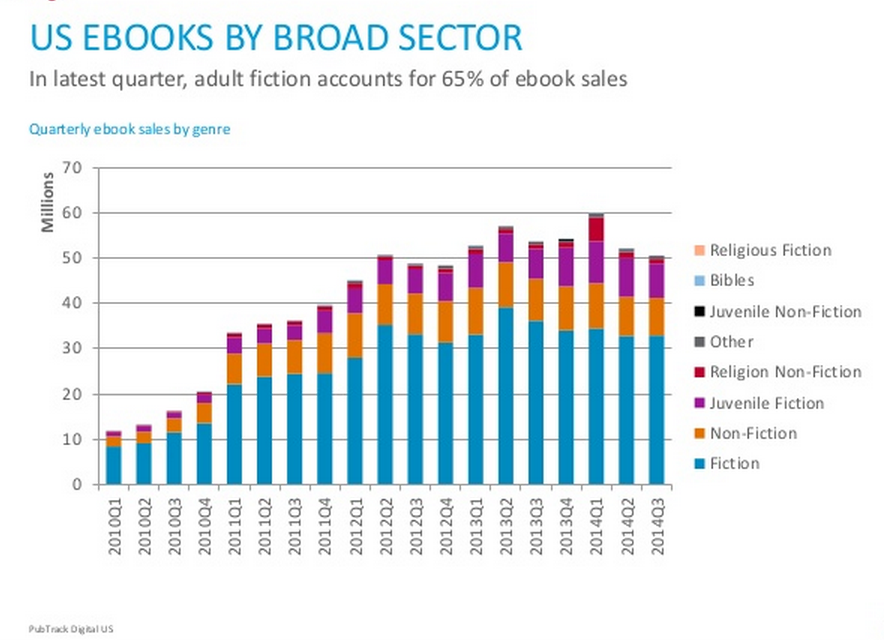 There isn't (yet) enough data in Nielsen's charts to be categorically certain of this, but it looks as though ebook sales have their own cycle. Sales of print books tend to peak in the last quarter of the year as consumers buy books as Christmas presents, though this trend may itself be in decline. Sales of ebooks, however, seem to peak in the first two quarters of the year, presumably as consumers load up on content to enjoy on the tablet, smartphone or ereader that they received as a Christmas present.

This trend has important implications for how commentators view the book market. Until now, the tradition has been to monitor the health of the book market in January following Christmas sales. From this data, however, it could be more meaningful to measure the fortunes of the ebook market in the middle of the calendar year. This would allow data gatherers and industry watchers to compare two peak quarters more easily, and avoid direct (and possibly unfair) comparison between physical and digital book sales in the final quarter of the year.

2. Ebooks aren't plateauing, adult fiction is declining

The second key takeaway from Nielsen's figures was that ebook sales volumes did unquestionably take a year-on-year dip in Q2 and Q3, after enjoying their best Q1 ever. Looking more closely at where sales were allocated it appears that this can be attributed to flattish year-on-year performance for adult fiction. Strong sales of ebooks in Q1 2014 appear to have been driven by a one-off spike in sales of religious non-fiction.

Perhaps a more appropriate question to ask when faced with this data is not why did ebooks under-perform as a format, but why did adult fiction not hold its own as a category in 2014. While it has been possible for some industry watchers to brush over this fact by pointing towards strong sales in print for children's books, the continued decline of adult fiction is a disquieting overall trend that can't help but have a knock-on effect on the ebook market.

Adult fiction accounts for two thirds of all ebook sales in the US, so a bad year for adult fiction is a bad year for ebooks at large - and vice versa. This, when taken alongside the static or declining market for non-fiction books seems to be the biggest inhibiting factor on the growth of the publishing industry.