In this second part of our analysis of the latest publishing market information issued by Nielsen at Digital Book World, we're taking a deeper dive into genres, and looking at the extent to which it can be said the growth of digital books has cannibalised the print market. We're also going to use the figures that Nielsen disclosed about the estimated size (in volume) of the US trade publishing to estimate how much digital has grown the overall industry.
3. Ebooks perform well in genre categories – but some genres perform better than others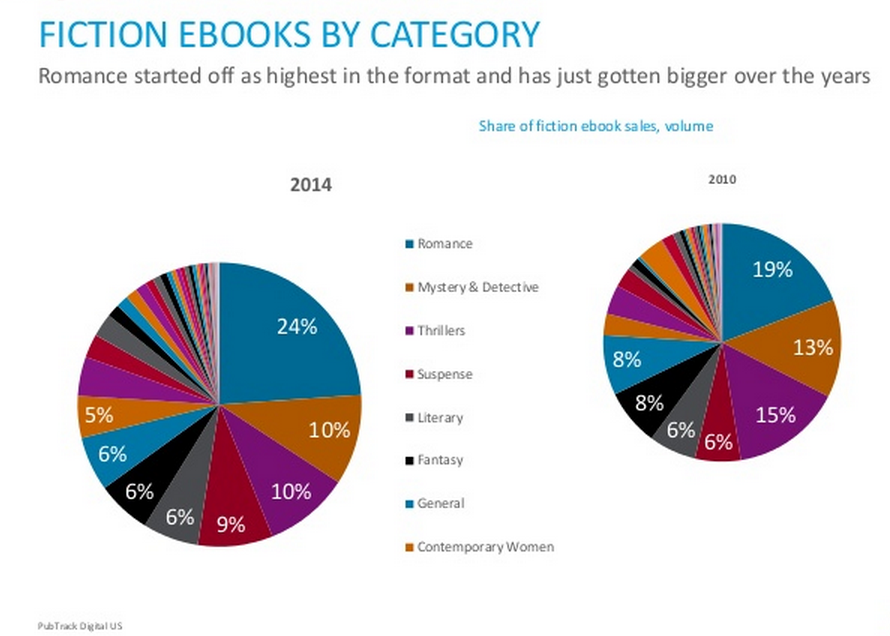 Another piece of received wisdom about the post ebook world is that genre is increasingly where the real sales are. Nielsen's data suggests that the truth of this statement depends on which genre you're looking at. Romance now enjoys nearly a quarter (24%) of ebook sales by volume, compared to 19% in 2010. (Interestingly Nielsen's data also appears to claim to be able to draw on a whole year of ebook sales data in these graphs, even though it's missing Q4 data in other graphs in its presentation.) Other popular genres, including mystery, thrillers, suspense and fantasy were all conspicuously down in terms of market share on 2010.
Presenting this data as a proportion of the market rather than sales figures, however, can give a misleading view of an ebook adult fiction market that has grown from c. 41 million sales in 2010 to c. 150 million in 2013. For example, according to Nielsen's data, romantic fiction had 19% share of the market in 2010, which would have translated into volume sales of 7.8 million. In 2014, however, sales of romantic fiction had grown to around 26.5 million. Even categories whose overall market share has declined, such as thrillers have seen substantial sales unit growth. In 2010, thrillers had 15% of the ebook market, which represented sales of c. 6.1 million units. in 2014 this had declined to 9%, but this sales volumes would have still more than doubled over this four year period to 12.6 million.
Nielsen's data also raises a larger question, which is that if you want to see where digital sales could be cannibalising print sales you might be well advised to look at the genre markets. In the so-called post ebook genre print sales have fallen, precipitously in some cases.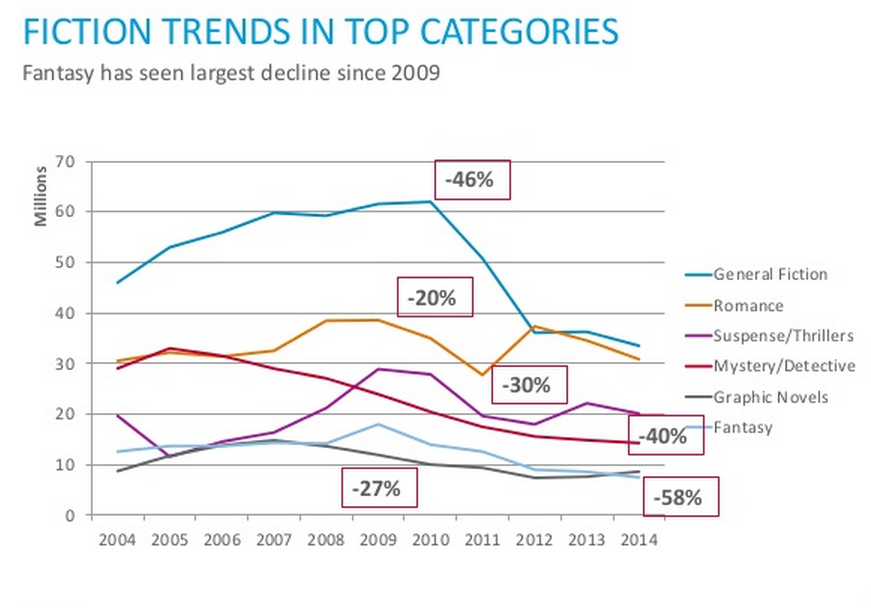 Unfortunately because Nielsen presents its data for ebook sales as a percentage of an unspecified whole, and physical book sales in millions it's not easy to make a comparison across physical and digital sales using its numbers. What is clear, however, is that mystery, thrillers and fantasy have lost market share across both print and digital, while romance has gained share in one format while losing sales in another.
This isn't necessarily a problem though, provided the combined ebook and print markets are substantially bigger than the old print-only market, which brings us to our last takeaway.
4. The combined print and ebook market is bigger than the print market – for adult fiction
According to Nielsen's graph cited above, adult fiction ebook sales volumes for 2013, which is the latest year for which they quote all four quarters of data, were approximately 140 million. In the same year nearly 150 million copies of adult fiction titles were sold across the three major print formats.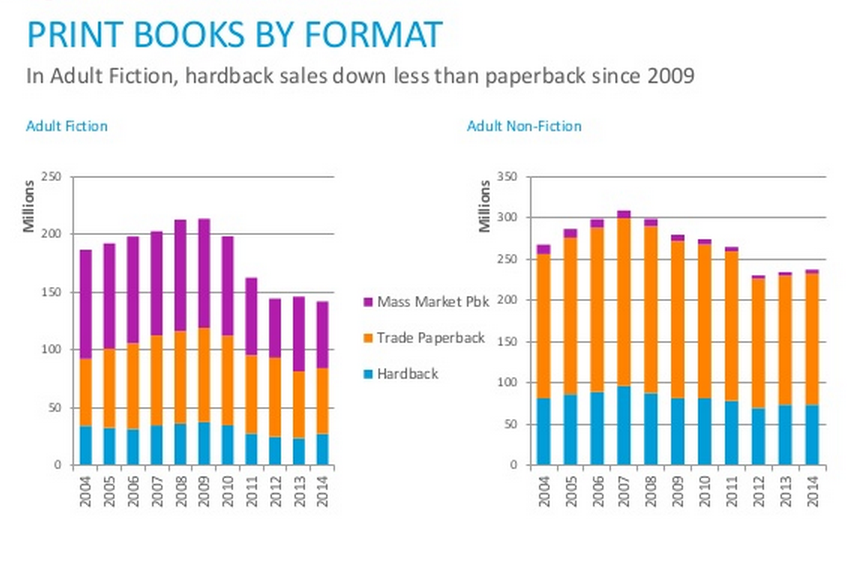 If it were possible to add these two sales figures together to guess at the total adult fiction market, then this means that around 290 million copies of adult fiction titles were sold in 2013. When we compare to the pre ebook market peak, which was sales of just over 200 million titles in 2008/9, this suggests that ebooks boosted adult fiction sales to the tune of around 90 million extra units. Taken at face value, these estimates imply substantial market growth, at least in terms of volume.
(N.B. There is another factor at play here that may be masking the volume of adult fiction sales even further. Nielsen's data now includes a proportion of the self or indie published market – or at least those ebooks sold that have ISBNs. As a great deal of self-published books do not have these, and there is no central body aggregating sales figures it is therefore impossible to use this data to guess at the true size of the self-published market and how much it contributes to overall publishing output and sales.)
A slightly different picture emerges when we apply the same methodology to adult non-fiction. Print sales for this category were just under 240 million copies for 2013, while ebook sales were around 40 million copies for the year. Combined, these figures are down on their peak of just over 300 million sales in 2007 at 280 million copies for the year. Much of this downward trend has been driven by the declining importance of reference books, but other categories such as cookery books have held up remarkably well.
Conclusion
Overall, Nielsen's latest round of market data shows us that publishing is still very much a market in transition. The growth in digital reading has shaken up the mix of what consumers buy and where they read it, especially in the category of adult trade fiction.
The remarkable growth of adult fiction ebooks is, however, both an opportunity and a danger for publishers. As we saw in the blog post we posted earlier this week, the industry's over-dependence on adult fiction to drive digital sales means that a disappointing performance in this category can have an exaggerated effect on its overall fortunes. Without significant uptake of ebooks in non-fiction and children's content, it's adult trade fiction's responsibility to shoulder the weight of digital publishing. The knock-on effect of this is that that each quarter that goes by without a Gone Girl or Fifty Shades will be heralded in certain quarters as 'the end' of the ebook boom.