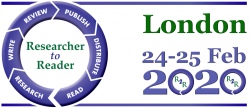 Ingenta and PCG (Publishers Communication Group) are going to be Silver sponsors at the Researcher to Reader Conference 2020 which takes place in London, UK on 24th – 25th February 2020.
The Researcher to Reader Conference (R2R Conference) is a collaborative gathering which aims to be the premier forum for discussion of the international scholarly content supply chain – bringing knowledge from the Researcher to the Reader. For more information about the event visit the Researcher to the Reader website.
Our solutions
The event will provide an excellent opportunity to discuss your software / platform solution requirements with Ingenta, or sales, marketing or research support services provided by PCG.
Ingenta's Caroline will be able to discuss with you the issues you are and trying to resolve, guide you on publishing best practice and demonstrate our technology capabilities from the broad range of configurable products we offer.
If your organisation wants to find ways to manage intellectual property, handle rights and royalties, manage the creation of new product types or effectively control order fulfilment, we can help. Likewise, if you are looking for a publishing platform to help get your content discovered and delivered online, we can also discuss options available to you. Ingenta produce other products to help you manage and monetise content and have products for book publishers, journal publishers' institutions, presses, libraries and other types of media organisation. With world leading global solutions, be sure to speak to us so that that we can help with unlocking your tomorrow.
PCG's Louise will be able to discuss their support services and provide examples of how they have helped organisations in different countries with sales representation, marketing or research for example.
Get in contact with us
If you want to discuss any software / platform requirements you may wish to get in contact with Caroline prior to the event. Alternatively if you are interested in how PCG can support your sales, marketing or research efforts, please contact Louise from PCG.
Please click on the links below to discover more about our individual products: