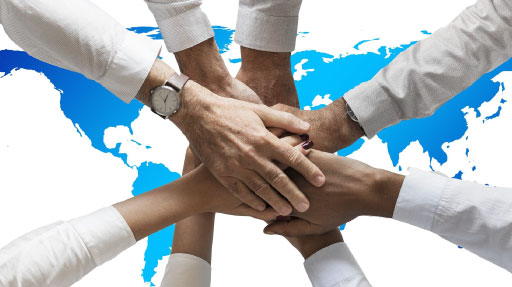 Join our team and work with a global leading publishing solutions provider
As an international company working within a challenging and ever-changing industry, Ingenta employs a diverse range of talented professionals. We look for individuals with the creativity, experience and adaptability necessary to thrive in this fast-paced environment. In turn, we provide our staff with competitive salaries, comprehensive benefits, a healthy vacation policy and much more.
With offices in five different countries around the world, our substantial growth is a direct result of the dedication of our knowledgeable and versatile staff. We provide career opportunities for a wide range of individuals with unique and evolving career paths, from executive managers to software engineers, and from business analysts to inside sales staff and customer service representatives.
Assisting 400 trade and scholarly publishers for over 30 years, Ingenta solves the fundamental issues content providers face. As the world-leading provider of industry-specific software and services, we offer a full spectrum of solutions to help publishers run their enterprise, deliver their content and connect with readers
Current Openings
Oxford (UK) / Work from Home
Oxford (UK) / Work from Home
Ongoing Opportunities
We are always keen to hear from talented and aspiring candidates who have an interest in working at Ingenta. We are particularly interested in individuals with the following skill-sets and professional work experience.
Java Engineers
Desirable Skills: Java/J2EE including EJB servlets; Eclipse (or similar IDE); JSP, JSTL; Basic Javascript; Basic CSS; XML; JUnit; SQL; CVS or other configuration management tool; Object Oriented design; Knowledge of Design Patterns; Linux/Unix.
.net Engineers
Desirable Skills: Microsoft .net; C# or VB (C# preferred); JavaScript, JQuery; XML & Web services; understanding of modern development frameworks; knowledge of GUI standards for Windows & web based delivery; understanding of database technologies; appreciation of business workflow tools.
Business Analysts
Desirable Skills: Strong presentation skills; excellent oral and written communication skills; negotiation and conflict resolution skills; strong technology background: MS Project, MS Office Suite; demonstrated knowledge of requirements gathering techniques including use cases, swim-lane diagrams, storyboards and wireframes.
Project Managers
Desirable Skills: Project management experience within the publishing industry as the core and information architecture experience being desirable skill sets along with PRINCE2 or other project management related qualifications.
Language Sales
Desirable Skills: Fluent in one or two languages in addition to English, spoken in a professional setting and used on a regular basis; telephone sales experiences with sales goals; handle daily call requirements; working knowledge of Word, Excel, Outlook, internet search engines and CRM systems; willing to learn about new technologies and social media channels.
Recruitment Opportunities
Our continued growth often creates new openings for self-motivated, passionate professionals. Interested applicants should send their CV/résumé quoting the relevant job reference to:
Ingenta is an Equal Opportunity Employer (EOE).
Career Development
Our goal is to provide long-term, satisfying and enriching careers. We also support our staff by offering a number of training opportunities to those who wish to further their current repertoire of skills. Ingenta believes in investing in its staff and will provide ongoing opportunities for learning as the demands of our field continue to evolve.
Employees at all levels within Ingenta are encouraged to take on new challenges and to further develop their careers. Our deep-rooted investment in our staff often leads to growth potential, which is why we like to reward our staff by promoting from within.
For career updates, please follow us @weareingenta or connect with us on LinkedIn.