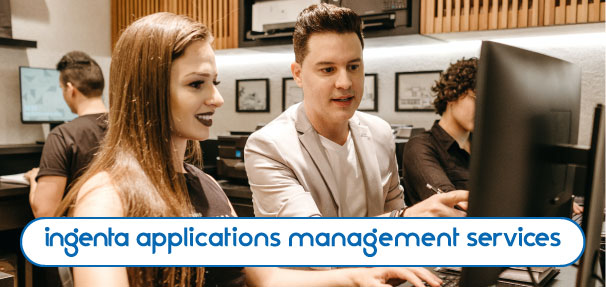 Your systems. Our expertise.
Ongoing, comprehensive technology oversight to support your growth and success.
Ingenta Applications Management Services (AMS) administers your software applications and systems throughout the lifecycle, including maintenance, upgrades, and enhancements for optimal performance and efficiency. From technical infrastructure to management processes, AMS oversees both day-to-day needs as well as planning aligned with your long-term goals. Levels of support are customized based on your business requirements.
Strategic management:
AMS integrates established processes and best practices for software and network application management to ensure they support your business, even as it evolves and scales. Functions include:
Site management
Resource management
Project management
Steering meetings
Business reporting
Critical business activity and peak period planning
Operations management:
AMS's technical management services monitor application performance on back-end infrastructure. They include:
Enhancement development and implementation
Third-party integrations
QA, test planning, scripting, and execution
Software release and update management
Data cleaning
Technical support:
AMS offers front-line support and troubleshooting for internal- and customer-facing application functions, including issue triage and resolution as well as user training.
Book a demo or request more information
Learn how Application Management Services can drive business growth and efficiency without draining your resources.