Content and intellectual property management platform
The Ingenta Commercial suite is an intellectual property publishing management solution for publishers. It helps organisations and businesses manage the whole publishing process and effectively handle products from concept, ideation through contract management to order fulfilment and cash collection. The publishing solution streamlines workflow and supports (IP) intellectual property management and copyright compliance management. With a comprehensive array of tools available, the publishing software assists with metadata management, contracts management, rights management and royalties management. It enables users to manage licencing associated with each digital or physical product, or each collection or product bundle that the user sets up. Subscriptions management is made easy; and benefits from real-time management reporting and content lifecycle management, taking control of sales, payments, invoicing, delivery and returns, simplifies workflow and promotes optimal efficiency of diverse publishing processes. Download the Ingenta Commercial Suite brochure.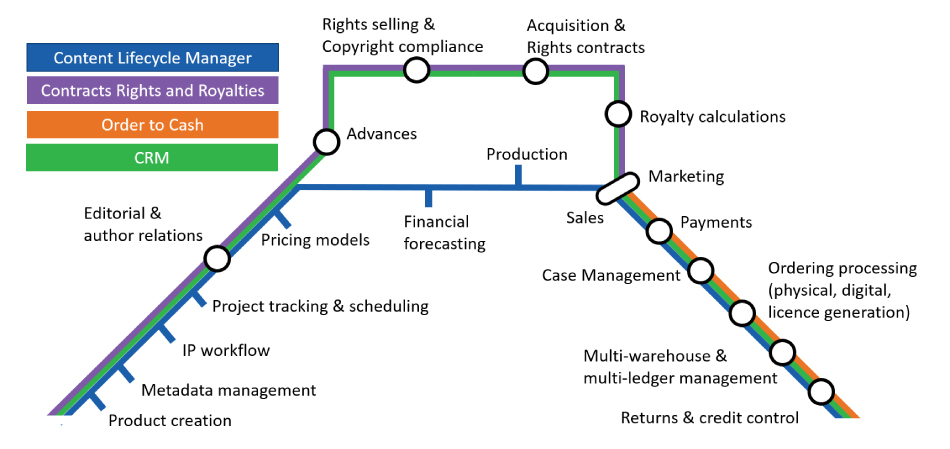 The systems configuration
Developed for today's publishing world with experience learned over decades, the IT system is highly configurable and can be delivered as a SaaS, (Software as a Service) tool to help organise, plan, administer and manage publishing best practices through an intuitive interface. This next generation cloud deployment technology offers CRM capability and integrates data and processes across the whole organisation helping internal staff and third parties like distributors, warehouses and customer services gain visibility to the portal, interact and monitor workflow. Futureproofing is achieved through the systems scalable and configurable construction. Businesses can purchase and implement the full system in its entirety or select certain modules to address specific organisational needs. Each application or modules you choose is built on a common architecture, with a single data platform, to help optimise efficiency and accuracy of managing data across multiple systems. The flexible solution also enables integration with third party software to cater for company preferred tools or specific operating procedures.
Learn more about the three integrated modules: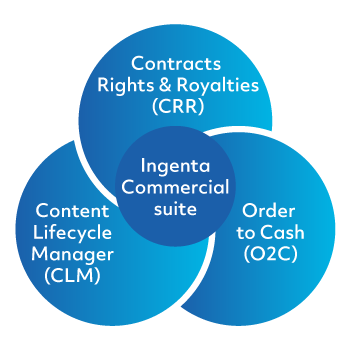 This module helps manage product processes and control workflow. It provides a central repository in which core bibliographic data, associated assets and rights can be stored and organised. Users can create highly configurable product types at a granular level or building block level. Being product agnostic any complex combination, set, collection of physical or digital bundle can be set up, decreasing time to market. Industry metadata extraction allows the ONIX feeds to be sent to trading partners, whilst a CRM system allows authors and editors details to be found. Profit & loss forecasting, data inheritance, audit history and comprehensive reporting functionality is also available. Learn more…
This software module aids copyright compliance. It enables users to create and manage detailed contracts, buy rights, sell rights, manage the payment of advances and royalties, make complex royalty calculations, create statements and manages income generated from licencing IP (intellectual property). A comprehensive permissions system enables permissions-clearance teams to track permissions acquired across multiple products along with usage and financial information. Learn more…
(If you work in the music industry and looking to manage specifically music contracts, rights and music royalties you may wish to consider:  Ingenta conChord )
This software module helps publishers to package, market, sell and deliver products in the readers or end users demanded formats. The subscription management feature helps users manage IP and the powerful pricing and discounting models can be configured to account for multiple factors such as currency, territory and delivery dates, to assist with the management of consortia deals. Other features include: accounts receivables, commissions, promotional campaign mailing, order acceptance and fulfilment, warehouse picking packing and shipping / dispatch, carrier / shipping management, and inventory management. Learn more…
Ingenta Commercial usage
Ingenta Commercial is used by many different types of publishers, including book publishers, book companies, publishing houses, scholarly and academic presses, other media industries and digital media sectors as well as distributors. Such an all-encompassing system enables both internal departments and external clients to work simultaneously and it helps facilitate consortia deals. Staff who use the platform may include: publishers, editors, production staff, rights and permissions managers as well as those whom work in sales, marketing customer support and inventory. Being content agnostic various formats can be handled including books, paperbacks, ebooks, magazines, journals, comics, other publications, electronic files, games and other forms of digital media and print media.
Ingenta Commercial suite video
Get in touch with us
If you are looking for a content and IP management platform, rights management software, royalty management software or seeking a publishing platform that can help manage contracts rights and royalties, manage product processes or a platform to help you package, market, sell and deliver products, please book a demo, or contact us:
Director of Strategic Partnerships
If you like Ingenta Commercial you may be interested in the modules which can be purchased and implemented individually or as part of the full suite: