Ingenta produce and sell a range of content management systems, publishing products and publishing software solutions to help manage, monetise and deliver physical products and online content. With over 40 years experience producing publishing platforms, Ingenta today provides a wide range of management products, tools and services, which are not exclusive for trade publishers, scholarly and academic sectors, book publishers, journal publishers, newspaper and magazine industries, the retail sector and music industry.
Our product range helps in managing intellectual property, product creation and order fulfilment. We also produce a range of publishing platforms which help get your content discovered and delivered. Ingenta also provide a range of advertising and media products and through Ingenta PCG various support services. Learn more about our products and services below and let us help in unlocking your tomorrow.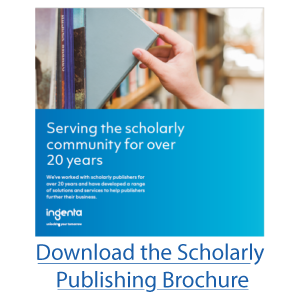 ---
The Ingenta Commercial suite is an ERP solution for publishers. The platform helps manage the whole publishing process, handle products from ideation through contract management to order fulfilment and cash collection. It streamlines workflow and supports (IP) intellectual property management and copyright compliance management. The full system can be purchased and implemented in its entirety or you can select certain modules: Contracts Rights & Royalties (CRR), Content Lifecycle Manager (CLM) and Order to Cash (O2C). Download the Ingenta Commercial Suite brochure.
The Content Lifecycle Manager (CLM) module helps publishers manage their intellectual property, contributors, product lifecycle and workflow. The module offers a central repository in which core bibliographic data, associated assets and rights can be stored and organised. It forms 1 of 3 highly configurable, content agnostic software modules that make up the full suite of Ingenta Commercial. Download the Content Lifecycle Manager (CLM) brochure.
The Contracts Rights & Royalties (CRR) module is an ideal platform for contracts management, rights management and royalty management. This module helps monetise businesses' intellectual property and copyright compliance and is 1 of 3 highly configurable, content agnostic software modules that make up the full suite of Ingenta Commercial. Download the ingenta contracts rights & royalties (CRR) module brochure.
The Order to Cash (O2C) module helps publishers and distributors to manage their overall order management process from beginning to end. It is a content agnostic solution supporting all product types and formats, one off sales as well as complex subscriptions. Publishers can package content fragments in different ways and sell them using a variety of different charging models. The module forms 1 of 3 highly configurable, content agnostic software modules that make up the full suite of Ingenta Commercial.
ingenta folio is a web-based solution for publishers to manage contracts and associated rights and royalties for all your intellectual properties. With a clear picture of what you own, you can market more efficiently, manage your products life cycle, gain control of your rights income, and manage permissions to make sure you are copy compliant.
---
Ingenta conChord is a configurable platform that helps manage the complexities of music contracts, copyright and associated royalties. It provides a complete solution for music publishers wanting more control and better visibility over licenced content. It also allows you to sell the music rights onto third parties and track earnings received. Music can be experienced in different ways and Ingenta conChord provides the flexibility to handle mechanical, print, performance and sync royalties.
---
Vista has been powering the fulfilment requirements of many large and smaller publishers for over 40 years. Vista is designed to assist with print-based publishing, as well as the growth of digital-based business, by matching the requirements of book-based publishing and subscription publishers. The next generation product is the Ingenta Commercial suite supports rights, royalties, permissions, editorial, production, online sales and marketing and digital and print distribution.
---
Ingenta Aperture gives trusted parties access to the information locked inside your systems. The web-based application provides intuitive access wherever you are, giving you the information you need on demand. It is an ideal product to improve efficiencies by enabling authors, bookstores, contributors and sales reps to be able to access the information they need whilst helping to avoid inconveniencing you.
---
Our publishing platforms provide a holistic range of solutions for online discovery. From hosting your titles in the world's largest resource for scholarly publications, to individually branded sites catering specifically to your unique audience, you can be assured of working with the best tools, and people, to deliver your content. Our products include Ingenta Edify, Ingenta Connect Unity, Ingenta Connect, and Ingenta Open.
The trusted name in online content delivery solutions. Ingenta Connect is an established market leader in online content delivery solutions, providing services to over 300 publishers. Ingenta's trusted content management technology and secure infrastructures, we specialize in making the online publishing process easy for you.
Provides publishers with a branded view of Ingenta Connect. The Ingenta Connect Unity option provides publishers with a branded view of Ingenta Connect. It is ideal for publishers wanting to utilize all the features the Ingenta Connect platform offers through your own website.
Your site, your content, discovered… Ingenta Edify empowers you to unlock the full potential of your content, offer real user benefit and explore innovative ways of supporting them – whether through responsive design, advanced researcher tools, simple ecommerce or integration of all types of content. Ingenta Edify delivers your branded online presence in a cohesive, seamless package and a fantastic user experience.
The home of Open Access – Ingenta Open delivers tens of thousands of Open Access books, monographs and articles to researchers worldwide. Built on the Ingenta Edify platform, it uses the latest technology for comprehensive interdisciplinary discoverability and seamless content delivery. For publishers, Ingenta Open offers a cost-effective hosting solution for your OA content.
---
Our range of advertising and media products are used by a variety of consumer, media, broadcast and media organisations:
Ingenta ad Depot is a browser-based multimedia advertising platform that offers a complete advertising solution to help manage multimedia advertising sales and track processes. An extensive range of tools helps your advertising team keep track of their canvassing and selling process, book multimedia advert placements and make changes at insertion level easily, backed by a flexible Inventory system that empowers your sales teams to sell multimedia, multi-channel print, digital and non-print physical inventory such as events and physical goods such as CDs books, etc. The Ingenta ad Depot platform features tools that help plan, organise and manage track leads and opportunities, control inventory, manage financials and report on activity status through built in reporting tool and dashboard.
Ingenta Market Place allows trusted clients to booking and review their own bookings, place requests or bids for space. Ingenta Market Place provides a means for suppliers to book advertising space(s) on a retailer's website. This enables the retailer to easily view, select and confirm optimum suppliers' product(s) for each position, to maximise revenues. One of our customer's, Sainsbury's, is successfully using this platform.
Ingenta Audience is an audience profiling platform that helps optimise advert positioning. Simply put it helps you get, "the right ad, in the right context to the right audience." It provides customer intelligence to help you engage the right audiences and make better informed marketing decisions. The profiling platform provides tools to segment your audience. These audience insights help you optimise advert positioning by helping you to determine which areas of content are most likely to be relevant and of interest to your target audience.
---
Our internationally recognized sales representation, research and marketing consulting arm, ingenta PCG (Publishers Communication Group), provides a range of services designed to support and drive your sales strategy. ingenta PCG offer Global sales representation, telemarketing, market research, customer service and strategic consulting.
Book a demo or meeting
We are here to help. Please book a demo, or contact us to learn more about any of these products:
Director of Strategic Partnerships
---