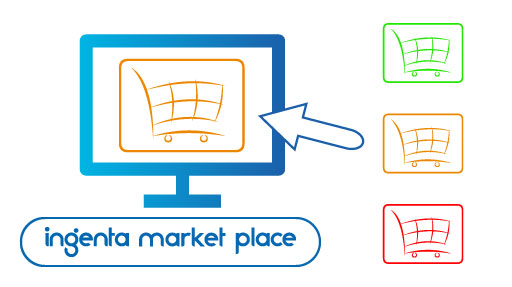 Enable suppliers to easily book advertising space on a retailer's website
Ingenta Market Place provides a means for suppliers to book advertising space(s) on a retailer's website. This enables the retailer to easily view, select and confirm optimum suppliers' product(s) for each position, to maximise revenues. One of our customer's, Sainsbury's, is successfully using this platform.
Client access
Most publishers of content have numerous key clients that provide a large source of advertising and want to have a closer relationship with the publisher. Ingenta Market Place allows the publisher to grant secure access to trusted clients to the main booking system. This access is restricted so that the client can only see their own bookings across all of the publisher's platforms.
Making a bid
Using a step by step wizard the client can enter in their own bid or request for advertising space across multiple platforms for multiple time periods. There is no limit to the numbers of bookings that can be requested or the time periods. Each client, as with our standard Ingenta Advertising offering, can have their own agreed rate card or contract in place.
Booking review
The publisher is instantly alerted to the new requests/bids coming in and can review all bookings requested and complete the inventory and content checks before authorising the booking request. There is no re-keying of the order as this is already in the Ingenta Advertising database. At this point our workflow engine can provide feedback to the client both using the online alert function within the portal or via direct email confirmations.
Reporting
Ingenta Market Place provides major efficiencies to both the client and the publisher removing duplicate entry and immediate feedback. The addition of reporting via SSRS or PowerBi allows the client to get up to date information on the performance of their advertising as well as providing clear details of all the advertising they have committed to with the publisher. This cements the relationship between client and publisher.
Book a demo or meeting
For more information about advertising software best practice and the Ingenta Advertising browser-based multimedia advertising platform, please arrange a demo or contact:
If you like Ingenta Market Place you may also be interested in:
Ingenta ad DEPOT – Browser-based multimedia advertising platform
Ingenta Audience – a tool to optimise advert placement through audience profiling.