Ingenta Content Lifecycle Manager (CLM) module helps publishers manage their intellectual property, contributors, product lifecycle and workflow. The module offers a central repository in which core bibliographic data, associated assets and rights can be stored and organised. It forms 1 of 3 highly configurable, content agnostic software modules that make up the full suite of Ingenta Commercial – a content and IP management platform.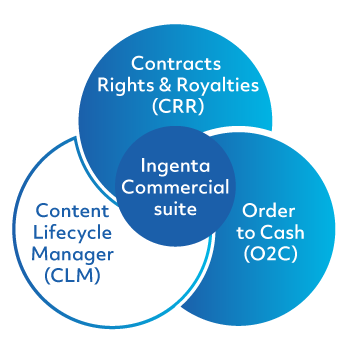 Users can create highly configurable product types at a granular level.

Being content agnostic any complex combination, set, collection of physical or digital bundle can be set up, easily forming the building blocks of new products.

Product creation wizards, data inheritance, templates and cloning make setting up new products fast and accurate.

Metadata extraction allows ONIX feeds or other data extracts to be sent to trading partners, whilst a CRM system allows authors and internal and external contributors' details to be stored.

Profit & loss forecasting, audit history and comprehensive reporting with simple user-created and shareable views and configurable personal and departmental dashboards.
The Content Lifecycle Manager (CLM) module like all modules in the Ingenta Commercial suite can be purchased individually or implemented with any other module in the suite. CLM provides one single, reliable and accessible source of product and contributor data, together with configurable workflow and a flexible and configurable structure to work with your future business needs and growth.
Learn more about Ingenta Commercial and the benefits of integrating with the Contracts Rights and Royalties (CRR) module and/or Order to Cash (O2C) module.
Content Lifecycle Manager videos
| | | |
| --- | --- | --- |
| How can you control all aspects of your Intellectual Property so that you can build products? CEO Scott Winner introduces Ingenta's Content Lifecycle Manager software. Maximize and manage the value of your intellectual property. Watch the video to learn more. | How does the Content Lifecycle Manager system help organisations? It makes the process of managing large sets of complex products, and their constituent parts, simple. Maximize and manage the value of your intellectual property. Watch the video to learn more. | What makes Ingenta's Content Lifecycle Manager system stand out from the crowd? Maximize and manage the value of your intellectual property. Watch the video to learn more. |
| | | |
Get in touch with us
If you are looking for software to help manage intellectual property, contributors, product lifecycle and workflow, this module may be ideal for you. To find out more about the Content Lifecycle Manager (CLM) module or other modules in the Ingenta Commercial suite, please contact us today for a free consultation or book a demo:
Director of Strategic Partnerships
If you like the Ingenta Commercial Content Lifecycle Manager (CLM) module you may be interested in the other modules which can be purchased and implemented individually or as part of the full suite. Check out: