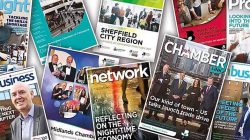 Kemps Publishing recently went 'Live' with Ingenta's advertising system, ad DEPOT. Kemps is a long-established publisher of quality information in the UK business-to-business sector. Their portfolio of products ranges from traditional hard copy magazines, through to the very latest in on-line internet and e-commerce technology.
Kemps has published nationally for Chambers of Commerce for many years and currently produces magazines for the following Chambers:
•  Devon & Plymouth                •  Milton Keynes
•  East Midlands                         •  Northamptonshire
•  Greater Birmingham             •  Sheffield City Region
Powered by Ingenta ad DEPOT – Browser-based multimedia advertising platform
Ingenta ad DEPOT is a browser-based multimedia advertising platform that offers a complete advertising solution to help manage multimedia advertising sales and track processes. An extensive arsenal of tools helps your advertising team keep track of their canvassing and selling process, book multimedia advert placements and make changes at insertion level easily, backed by a flexible Inventory system that empowers your sales teams to sell multimedia, multi-channel print, digital and non-print physical inventory such as events and physical goods such as CDs, books, etc.
The Ingenta ad DEPOT platform features tools that help plan, organise, track,  and manage leads and opportunities, control inventory, manage financials, and report on activity status through built in reporting tool and dashboard.
Martin Jennings, Kemps Joint Managing Director, said: "We are very excited about this latest phase of our ad booking management innovation at Kemps. We have seen immediate efficiencies and ROI since using ad DEPOT. The implementation was smooth and Ingenta's team was professional and understood our requirements from the outset."

Scott Winner, CEO at Ingenta, adds: "We are thrilled to partner with an exciting and prestigious publisher like Kemps to deploy our platform in support of their business goals. This product is the culmination of years of hard work by Ingenta's experienced team of developers and business experts to provide a full suite of solutions that can help publishers around the world manage, market and monetize their product lines. We are looking forward to continuing our strong  partnership with Kemps."
---
For more information, please contact:
About Ingenta
Ingenta is a world-leading provider of content solutions that transform business. We cover the publishing process from end to end with content systems, audience development and content delivery software and services. Combining our unmatched publishing knowledge, global operations and customer support with our Commercial systems, the Ingenta suite of hosting platforms and PCG (Publishers Communication Group) sales and marketing consultancy, we offer the industry's only full spectrum of solutions to help publishers move their content forward. Listed on the AIM market of the London Stock Exchange, the company operates jointly from Europe (Oxford) and North America (Boston and New Jersey).
www.ingenta.com